Odisha v NorthEast United
ISL 2018-19: Eelco Schattorie - NorthEast United had to pull some strings to get me appointed!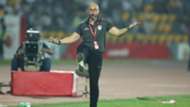 NorthEast United FC are on top of the Indian Super League (ISL) table and Eelco Schattorie stated that he wasn't going to be appointed as the head coach in the first place.
In the ISL, every franchise has to seek approval from the league organisers before they appoint a head coach. Schattorie stated that the John Abraham co-owned side had to convince the league organisers in the first place to allow his appointment.
Schattorie was questioned if his knowledge of Indian football gave him an edge as compared to the previous coaches at NorthEast United.
"That depends on how you look at it. Me getting appointed was always a question mark. The club had to pull some strings to get me appointed," said the 46-year-old.
"For us, I don't think anyone expected us to be in such a position now given the managers before me. The club, players and staff can be extremely proud of where they are now but again, it is a long road and we will keep fighting for that. I am a very realistic person. I saw what we achieved today and we will keep going from here," he added.
Schattorie also took the opportunity to apologise to Josep Gombau after stating in the pre-match conference that he would have taken the Delhi Dynamos team in the top half of the table as opposed to their current predicament.
"In the press conference yesterday (Monday), I said if I would have had the Delhi team, I would have been (on) the third position. I really did not mean anything about Delhi's coach. It was based on that they really have a good team. So my apologies if that somehow went in a wrong interpretation. I deeply apologize for that," he mentioned.
Interestingly, unlike most clubs in the ISL, NorthEast United conducted their pre-season training in India and struggled to get enough practice matches. In fact, their plans to travel abroad went awry and their pre-season in India was more by default than a planned decision.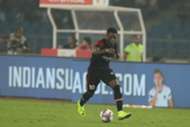 "If you only knew the obstacles that I had from the beginning of the season till now, then we can be extremely proud of where we are. Each club has its obstacles but if I look at how we gelled together and I put a lot of attention on the team spirit. We got good results from that and I actually prefer to play football. I admire Delhi in that style. I have the same idea.
"But that is not always possible regarding the qualities that you have. You have to deal with it. For instance, today I chose to change our system and play a little bit more direct forward. That worked well. We keep developing on playing better possession-based football. But it's a very long way. For now, we can be very proud of where we are," he explained.
NorthEast United dominated the proceedings especially in the first half and should have been disappointed not to have taken a lead. They eventually scored two late goals through Fernando Gallego and Bartholomew Ogbeche.
"We had some suspensions where we had to play with our centre-backs who are less able to play football and so I chose to play a more direct game. I changed the formation to 4-4-2. (We) analysed Delhi on where their weaknesses are. That plan worked well in the first half and we created those chances.
"We hardly gave any chances away because my biggest worry was that Delhi like to play football. They played in a good tempo but we closed them down perfectly in my opinion. I don't think they really had any big chances which is due to good organisation. In the second half, we sat back a little bit more. Of course in the first half, we tried to press a few more times physically but you have to take your breathers. Eventually, we got those two goals. We deserved it, especially compared to the first half," he signed off.