Indian Super League
ISL 2018-19: You cannot write us off, warns Chennaiyin FC assistant Sabir Pasha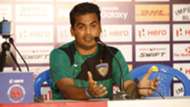 The defending champions are yet to taste victory this season and are desperate to get off the mark. Chennaiyin FC have a single point out of the possible 15 but assistant-manager Syed Sabir Pasha believes that they are creating chances and performing well. Lack of concentration in defence is costing them.

"We were missing chances. Performance wise, we are doing really well. We are creating chances. It is just lack of concentration in defence. Apart from that, if you see different matches, we have been doing well.
"One thing missing is converting chances. If we can get that rectified we can climb up the points table," he remarked ahead of facing Mumbai City FC on Saturday.
Pasha pointed towards the 2015 season when Chennaiyin were struggling initially but eventually managed to win the title. The team is confident of defying the odds and fight their way through.

"We want to repeat our feats from last season but unfortunately it is not happening so far. During Marco's (Materazzi) season (2015) we were last and then changed our season around and won the title. You cannot write us off. Especially, since we are the champions. We are confident we will come back," said the former Tamil Nadu coach.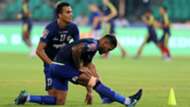 When asked to comment about captain Mailson Alves being benched against
ATK
, Pasha confirmed that it was a hard choice to make for head-coach John Gregory but the team has received it very well and have remained united.
"It shows the unity of the team. Somebody like the captain (Mailson) is being sacrificed and still we are united. It is hard to name a captain and bench him, but it is not a problem here. It is all related to the team coming good. I feel that most important thing that is coming through is the unity of the team.

"We hope that he (Dhanpal Ganesh) gets back before the season ends. We do not have a date on when he will be back but hopefully he can play. All 25 players are ready for the next game."
On Jeje Lalpekhlua's uncertainty of making it into the first 11, the Chennaiyin assistant added, "Jeje has been doing well in the training sessions. He may or may not be picked for the game but it all depends on the coach."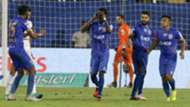 Pasha meanwhile expects a tough fixture against Mumbai City FC and believes that the Islanders are performing well despite what some of the results portray.

"Everybody sees the results. Mumbai City are also like us. Their game against Goa (5-0 loss), they showed they are very dangerous like how we did against ATK. In the first 45 minutes, they were brilliant and fashioned a lot of opportunities. Against ATK, the result was 2-1 but the game was different. We had a lot of chances. 
"Mumbai are doing well and we will not take them lightly. They have a tough squad and it is going to be a good game," he signed out.