ATK v Goa
ISL 2018-19: Steve Coppell - Keeping FC Goa quiet an achievement in itself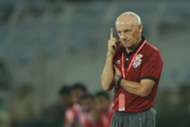 ATK played out a second consecutive goalless draw in the 2018-19 Indian Super League (ISL) on Wednesday. This time, they held FC Goa at home.

The hosts surprisingly had the better opportunities but according to head coach Steve Coppell, only time would tell if it would be a point won or two points dropped.

"Time will give me the conclusion. They had two good chances early on when we were just getting used to our formation and what we were trying to do. I thought we had the more clear-cut opportunities. I will reflect on it tomorrow and review the game but to keep Goa quiet is an achievement in itself. But, in time we might think of this as points dropped, rather than a point won," he said.

FC Goa striker Ferran Corominas, who has eight goals this season was kept quiet too. "They've got really good players and the core of the team has been together for two seasons now. The familiarity is hard to achieve in a short space of time but from what we wanted to achieve today, we did well in keeping Coro quiet but he is still always dangerous.

"He only needs one mistake, one lapse in concentration and he takes advantage; he has proven that this season and last season too. So (to stop him) is a team achievement, not just the back four or the two central defenders."

"We have got to really start taking more opportunities ourselves. We are solid, everyone would say that; three clean sheets on the trot but we need to be a little bit more expressive going forward. We have three away games, difficult to balance the conundrum of keeping clean sheets and trying to score goals."

Coppell was quite coy when being asked about the referee. "It was a challenging and competitive game. I don't like to see everyone waving yellow cards. The referee was put under a fair bit of verbal pressure. Sometimes you think of joining in or just letting it go, but I think the referees here are very focused on improving. I know there was an ex-English referee here who I saw before the game, trying to raise standards everywhere. So, I try not to complain about referees but dot dot dot (smiles)."

On sixth spot on the table, the former Jamshedpur FC manager did not see playoff hopes getting dim. "It is getting difficult. Some teams are stretching the league like Bengaluru and Goa. NEUFC had a great result last night. We are at the halfway point now, we have 12 points, we need to do better in the second half, that is obvious.

"Things will be a lot clearer after the next three games, we can make a real assessment of what will be required to make the top four. At the moment, we are just sort of clinging onto coattails, we really need to try and push and get involved in the mix, if we can."

Eli Babalj made his ATK debut after brought in as a replacement for Emiliano Alfaro, who was himself brought in for an injured Kalu Uche in the first place. "It is bad enough when you lose a proven goalscorer in India, and then you lose another proven goalscorer in India, it is bound to affect your performance. With Goa, Coro missed one game and they got beat. It is a big hole to fill.

"We got in Babalj, he's had 4 training sessions with everybody. We are not making do but we are trying to get the best out of what we have got. Everton (Santos) was excellent. He has played everywhere this season, I am very grateful because his pace makes a big difference. Such is football, players get injured and we are adjusting."

He lastly said, "​My philosophy is WNG - Win Next Game. Can we? Yes, it is about how do we go about it and how we execute whatever game plan we have. But yes, after the next three games we can draw a conclusion on how the first two-thirds of the season has gone."