Indian Super League
ISL 2018-19: NorthEast United's Eelco Schattorie - I was frustrated with the way we played
NorthEast United FC find themselves at the top of the Indian Super League (ISL) table after their last-gasp 1-0 win over 10-man ATK at the Salt Lake stadium on Thursday.
The visitors were handed a man advantage in the 32nd minute of the match when ATK left-back was sent off for a second bookable offence.
Summing up his side's win post the match, NorthEast United head coach Eelco Schattorie took the chance to lament his team's pre-season preparations.
"First I want to address that me and staff that pre-season we had was far from the way I wanted," Schattorie stated.
"I like to play attacking football. But we had to take into consideration that we had only two days to recover from our last game. We are still not at the fitness levels that we should be at due to the pre-season," he added.
The visitors were frustrated for large periods of the match with ATK's 10 men holding firm before Rowllin Borges' 90th minute header finally broke the deadlock.
Despite the three away points garnered by his side, the Dutchman was not pleased with how his men had applied themselves after going a man up.
"I was frustrated with the way we played because I think we should have kept the ball because that is my style but we were focusing too much on going forward. Then the whole team gets left out and when things should be easier, it actually became more difficult for us because players think we have to go even faster forward but that's not the case. They are dropping in as a result of going down to 10 players and we needed to show more patience to break that down. But we got away with the three points, so that is fantastic," he explained.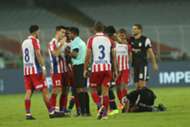 The 46-year-old also refused to describe the red card to Ralte as an advantage to his side and stated that his players could have used the ball much better in that situation.
"As I said, if the team really plays the style I want, then a red-card is really good for me because that leaves you more space for football. At this stage, with the preparation we had in pre-season, I expected a little more with the circulation of the ball. We made many mistakes here, too much staying on one side and too many long balls," said Schattorie.
"So of course, for red card is always a turning point but it does not always give you an advantage. Suddenly, some of the players start taking it too easy or that we have to go faster forward. Ideally, you would like to take it as an advantage because the longer the game goes on, the more tired the opposition becomes and that can give you an advantage," he continued.
The perennial underachievers might be at the top of the league table right now but their coach remains an unsatisfied man.
"For me, if I lose but we play a really good game creating a lot of chances, then I am happier than when we win due to a lucky goal or something," he remarked to conclude.