Indian Super League
ISL 2017: Chennaiyin FC's John Gregory - We kept Bengaluru FC quiet until the last seven minutes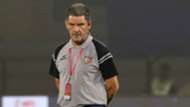 Chennaiyin FC coach John Gregory was pleased that his team kept Bengaluru FC's famed attack at bay for most of the game. The 2-1 defeat was the first loss suffered by the Blues on their home soil this season in the Indian Super League (ISL).
"We came here to win. We got off to a good start, which certainly helped, by scoring first. The game was exactly how we expected it to be. Bengaluru FC were fantastic and made a huge impression in ISL this season. They try to build it out from the back and then dominate all over the pitch.
"It was really a tough game for us tonight. But, we managed to keep them quiet till the last seven minutes. We defended well and got the winning goal at a crucial moment," said Gregory.
Such was the game plan of Gregory that Bengaluru FC struggled to create chances with Miku hardly getting a touch in the first half.
"A lot of this is mental as you have to concentrate and focus on your job. We made it hard for them to play their open game which summed up our performance. Defensively we were very strong and Dhanpal Ganesh and Bikramjit Singh did a great job in midfield defensively. Of course, (Francisco) Fernandes and Jude Nworuh also helped defensively.
"We were solid and just tried to keep them away from our goal. We kept an eye on their strikers in the penalty box as they can score two from three shots on target. We got that one chance and managed to finish it off in the last five minutes," he explained.
Inigo Calderon managed to keep Sunil Chhetri quiet and the one time when the Spaniard left him unmarked, the striker found the back of the net.
"Of course, he is a danger for the opposition. He is here to win matches. Inigo also is an experienced player and he just knew what his job was. He managed to keep an eye on him and he got away from him once during the last five minutes and he scored.
"But he managed to keep him quiet for a long period of time in the match. It is a tough job. (Edu) Garcia also was a threat to us and it was a good solid performance from us," he elaborated on his plans to keep Bengaluru attack at bay.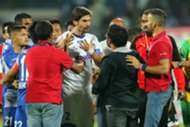 Tempers flared towards the closing stage of the game when Edu Garcia chose not to give the ball back after play resumed following Henrique Sereno's injury. Dimas Delgado too struck the head of Rene Mihelic by throwing the ball in what was an unsportsmanlike act.
At the end of the final whistle, both sets of players lost their cool and got involved in a scuffle.
"The fans have made a long way to support us from Chennai. This is a derby and so tempers flared. Everyone (fans) was over-celebrating sometimes. But this is what happens when you get into a game which means so much for everybody. Overall, I am happy with the three points.
"I cannot make a comment on it (scuffle on the field). There was a lot of passion on the pitch. We managed to score the winning goal, that's it," he signed off.