Indian Super League
ISL 2017-18: Chennaiyin FC do not have disciplinary concerns, says John Gregory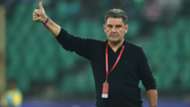 Chennaiyin FC head coach John Gregory dismissed suggestions that his team lacks discipline after his side picked up a league-high 32 yellow cards over the course of the ongoing Indian Super League (ISL) season. 
Speaking to the media ahead of Chennaiyin FC's home game against Jamshedpur FC on Sunday, the Englishman said, "I don't think there are any disciplinary issues for us. Our bookings have been for tackles and contacts. (Dhanpal) Ganesh picked up one the other night for getting involved in something he should not have. Other than that, we are a competitive side and we compete all over the pitch.
"Certainly, there is no problem. We leave referees and officials alone. We just focus purely on being professional and get on with the game. Our bookings have been from rash tackles. It is not a concern for us." 
He further went on to discuss Dhanpal Ganesh's disciplinary record, with the Tamil Nadu player forced to miss Sunday's game after picking up his eighth yellow card of the season.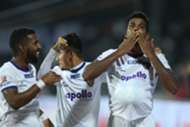 "I do not want to stop the way Ganesh performs. He has had a very good season for us. He draws attention to himself because he is whole-hearted and is never afraid to tackle. He does things you want from your midfielder.
"Against Goa, his yellow card was needless, yes. He just has to turn around and walk away in the future. He can't be on a yellow card early in a game and walk on ice for the rest of the game. It is senseless and he needs to stop picking silly cards. We will miss him," he stated. 
The Marina Machans sit third on the table right now after beating FC Goa 1-0 away recently. Another win on Sunday could well propel them to the play-offs and Gregory feels his team are in high spirits. 
"We went to Delhi, which was a tricky fixture and we came away with a point. We were delighted with that. After adding three more points in Goa, we are a happy camp right now. We enjoyed our journey back home." 
The former Aston Villa manager went on to praise their opponents on Sunday and gave special credit to coach Steve Coppell and his assistant Wally Downes. 
"Jamshedpur is a slightly different team. Their players give incredible efforts and Steve and Wally have got them performing phenomenally. Steve and Wally get 120 per cent commitment from their team. They will keep working the entire game and we have to be at our best against them," he warned. 
With a fit squad at his disposal, Gregory is not expected to change his tactics but the tough fixture list could see him implement a few changes in personnel. 
"We don't change our formation much and it tends to be the same usually. Our attitude on the field is also the same. We play one striker in Jeje and have two wingers. Our personnel might change but not our tactic," he remarked.