Primera División
Isco contract talks with Real Madrid pushed back to end of season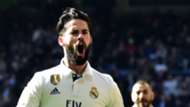 While Isco's negotiations for a new Real Madrid deal remain on stand-by, the playmaker sent a message to the club with a goal that broke Osasuna's resolve and helped deliver three valuable points at the weekend. Along with Keylor Navas the ex-Malaga man has seen his future thrust in the public spotlight, but both men gave fine performances to show they are doubtlessly Madrid material. 
Goal understands that Isco's contract talks are merely delayed, and not bogged down. Isco's deal is up in June 2018, less than 18 months from now, and preliminary discussions over a renewal started last fall. 
Thiago Silva out against Barca
Ultimately, however, both parties decided to suspend talks until the upcoming summer, when the Liga season comes to an end. There is no sinister motive behind the postponement; the club would simply rather evaluate its playing staff and make final decisions once the FIFA transfer ban comes to an end at the start of the next window.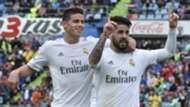 That gives Zinedine Zidane and his team ample time to decide whether Isco will continue to be a part of his plans, or whether the performances of the likes of Marco Asensio and James Rodriguez mean there is sufficient cover for the role. Only when the club has that full information on hand will they sit down for renewal talks. 
This temporary break from off-field matters may also suit the player himself down to the ground. In 2017 he has started three of the eight games Madrid have played, even with a short injury absence, and netted three goals. "Isco is a key player, he works hard and I am a big fan," Zidane told reporters in Friday's news conference, and there is no reason to doubt the Frenchman's sincerity. 
The No. 22 is busy repaying his coach's confidence, and if he keeps coming up with vital goals like the one that downed Osasuna, he should not have any concerns when it comes to hammering out a new deal at the Santiago Bernabeu.