AIFF Women's National Championship
Indian Women's League 2017-18: Eastern Union, Rising Student register wins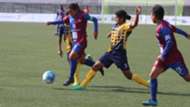 Both the finalists of the previous edition of the Indian Women's League (IWL) won their respective games as defending champions Eastern Sporting Union (ESU) edged Indira Gandhi Academy for Sports & Education (IGASE) in a five-goal thriller while runners-up Rising Student's Club defeated Gokulam Kerala FC 2-0.
Both the games were played at the Jawaharlal Nehru Stadium in Shillong, Meghalaya, on Monday.
 
---
EASTERN UNION [Kashmina 25'; Prameshwori 47', 59'] 3-2 INDIRA GANDHI ACADEMY SE [Parmoita 43', Sandhiya 48']
---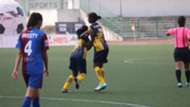 Eastern Sporting Union had to take the lead thrice to get the better of Indira Gandhi Academy SE who had equalised twice in the opener of the IWL 2017-18.
ESU started off on an attacking note with Prameshwori and Kashmina combining well up front. Prameshwori's attempt on goal in the 20th minute required IGASE goalkeeper Crystal's intervention. Kashmina finally gave Eastern Union the lead in the 25th minute.
On the other side, Sandhiya's penalty was saved by goalkeeper Panthoi in the 42nd minute, though in the following minute, Paromita slotted in from close-range to make it 1-1 at half-time.
It didn't take long for ESU to regain their lead through Prameshwori's strike in the 47th minute while Sandhiya made ammends for her penalty miss by bagging the equaliser in the very next minute.
Umapati Devi and Manisa Panna held their backline against the threats posed by IGASE's Pradeepa and Radhika. Panthoi also helped ESU to stay in the game by blocking shots from Sandhya and Pradeepa.
The winner came against the run of play in the 59th minute, as Prameshwori's piledriver nestled the back of the net. Having garnered the lead for the third time in the tie, ESU packed their defensive third.
 
---
RISING STUDENT [Ngoubi Devi 73', Anju Tamang 76'] 2-0 GOKULAM KERALA
---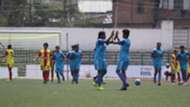 Second half goals by Ngoubi Devi and Anju Tamang gave Rising Student's Club a 2-0 win over Gokulam Kerala FC.
Gokulam's Fazila proved to be the main protagonist in the first half. The Ugandan international scored from a header in the 16th minute, but the offside flag was raised.
The only notable chance for Rising Student before the break was when Anju shot over with only the rival goalkeeper to beat before Fazila got unlucky once again with her attempt coming off the crossbar.
Lack of chances in the second half saw both sides resort to long ball tactics. Fazila hit the side-netting in the 67th minute but the Odisha side had the last laugh with two quick strikes by Ngoubi and Anju.
Ngoubi headed in a cross from the left in the 73rd minute while Anju spotted the rival goalkeeper off her line and chipped the ball into the net just three minutes later.
Gokulam had no reply to the double setback as Rising Student claimed all three points.