Asian Cup Qualification
Indian football: Stephen Constantine - Kyrgyzstan are the favourites going into this game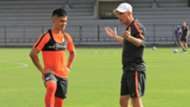 India coach Stephen Constantine spoke to the press ahead of his team's crucial Asian Cup qualifier against Kyrgyzstan on Tuesday. 
India are all set to take on a team which is ranked 32 places below them but home side's coach believes the result will not have anything to do with FIFA rankings of both countries. 
"I would say not worth the paper. I think the rankings are there for a reason. Many variables which determine the rankings. Whether we are 32 above or below will not decide the outcome but by who wants it more and how hard. Rankings are there but in these games, there are on paper."
According to Constantine, India are ready for the physical battle that awaits them on Tuesday and are hungry to register a win at home.
"If it is a battle of stamina, we are very physical and quite strong. We are a fit, hardworking team. They will be difficult to break down, they will think they can win. We are in India and need to do everything we have to take the three points."
Match Preview: India vs Kyrgyz Republic
India Colts coach praised the experience and quality of his opponents and said he expects a difficult game at the Kanteerava Stadium in Bangalore.
The man from London also revealed his satisfaction with competition for places in the squad.
"I think we have established more or less a settled squad" began Constantine. "It's taken two years. Obviously, there will be one or two players coming in depending on loss of form, injuries. At the moment, we have two or three players in each position." Once again, there was no guarantee about who gets to play. " This was the point of my rebuilding the squad. Competition of places breeds competition in the squad. Nobody is guaranteed a place in the first eleven" 
Although Constantine was coy over a start for Rowlin Borges, he expressed disappointment over the loss of two of his key players - CK Vineeth and Udanta Singh.
Constantine was also positive when inquired about missed chances against Nepal. "I would be more concerned if we weren't creating. Good that we are making them. On another day, we would have scored three or four." said the head coach of India.
Know your rivals: Kyrgyz Republic
The coach praised the mood in the camp and said they will look to win the game despite branding their opponents as favourites.
"No, playing in Europe is beneficial to them, we will focus on them as a team (and not individuals).We can focus on things that we can do to win. Yes, they are the favourites going into this game. We are in good form, have great atmosphere in the camp and will look to win the game." concluded Constantine.
Skipper Sunil Chhetri, who was present alongside the India coach, spoke of  his fitness and the confidence in the squad. 
"I am quite confident [about the game]. I am quite charged up. I got three or four days rest after joining the camp. They checked and thought there was some scar tissue. Initially I wasn't very happy being made to (sit out) but it worked out. After four days, I came into the team. I am quite fit and happy to be back. Thankfully I am ready for selection." confirmed Chhetri.
India face Kyrgyzstan on Tuesday, June 13 at the Kanteerava Stadium in Banagalore. The match is scheduled to kick off at 8 PM IST.