I-League
Indian Football - Former Chelsea defender Boulahrouz leaves door ajar for India playing stint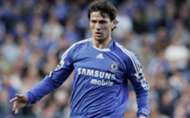 Khalid Boulahrouz, the former Netherlands national team and Chelsea defender, has expressed an interest in playing in India. 
The former Sevilla right-back is currently in Indonesia, where he had undertaken the role of a guest coach for the Indonesian Liga 2 side Persijap Jepara's women's team. 
There, the 2010 World Cup finalist made contact with the Indonesian Dutch team supporters, named Oranje Indonesia, while also speaking to the national press. 
Hazard and Kante make PFA ToTY
"I will never stop [playing], because I'm always searching for new challenges. It could be in here Indonesia, China, India, or even Japan," revealed the 35 year-old in Jakarta, even though he'd retired as a professional player in February, 2016. 
Boulahrouz, nicknamed the Cannibal, began his career in the Netherlands with AZ Alkamaar before plying his trade for clubs such as Hamburg, Chelsea, VfB Stuggart, Sporting CP and Feyenoord Rotterdam.
He has won the FA Cup and the English League Cup during his stint in the English Premier League (EPL) with the Roman Abramovich-owned team.