United States
'I'm not ready' - Vieira denies interest in USMNT job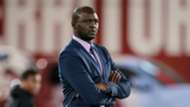 Patrick Vieira is flattered to have been suggested as a possible candidate to head the United States men's national team but believes he is not ready for the position.
The New York City FC coach has plenty of international experience, winning a World Cup with France in 1998 and going to a final against Italy in 2006.
Since moving into the coaching ranks, Vieira had success with the Manchester City youth side before moving onto NYCFC in MLS, where he's led the team to back-to-back postseason appearances.
Meanwhile, the U.S. suffered a disastrous loss to Trinidad and Tobago on Tuesday, leading to the country's elimination from the 2018 World Cup. It is the first World Cup the nation has missed since it failed to qualify for the 1986 tournament.
U.S. boss Bruce Arena resigned Friday and with his recent success in the domestic league, plus his experience with young players and the U.S. expecting to field a much younger roster going forward, there has been talk Vieira might be a good choice to take over the role.
Previously, Vieira had called the prospect of managing the U.S. "exciting" but now has thrown cold water on his candidacy for the position for the time being.
"It's always flattering, but I'm not ready," Vieira said in quotes published on MLSsoccer.com. "I think when you go to the national team, it's important to know the league, to know the players, to understand the system and how it works and you need experience. There's a lot better candidates than myself.
"I really don't know what people are talking or what people are thinking. But something I can tell you is that I'm not the right person at all."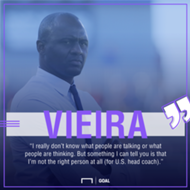 Vieira has seen the massive disappointment in World Cup qualification before. In 1994 France was among one of the big nations to miss out on the tournament in the United States, but made a quick turnaround to win the 1998 edition, which it hosted.
And Vieira, who was a member of the 1998 team, believes U.S. Soccer would be wise to follow France's lead and make changes, but not completely overhaul the system.
"I don't think the U.S. should throw everything [out] and start from nothing," Vieira said. "They've been working for the last few years. It's just about taking the good and the bad and just try to reflect about what went wrong. I don't think they should throw everything away because that's not their answer."
Vieira cited France going with Gerard Houllier's assistant Aime Jacquet rather than going in a completely different direction as evidence drastic change is not always needed to see an uptick in results.
"[France] didn't throw everything out. Aime Jacquet came on and he worked in Euros '96 in England and this is where he found the leaders he needed to build around for the World Cup in '98."