Zlatan Ibrahimović
'I'm not a king - I am God!' - Man Utd striker Ibrahimovic's hilarious response to TV report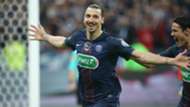 Benjamin Stambouli has revealed that it is not just at Manchester United that Zlatan Ibrahimovic has taken the opportunity to refer to himself as a "god".
The Swedish striker announced his arrival in England in the summer of 2016 by bolding declaring that he would trump the status of 'king' Eric Cantona at Old Trafford.
Zlatan the best veteran No. 9 ever?
He has set about that task in some style, netting 28 times in his debut campaign with the Red Devils.
Ibrahimovic was arguably even more talismanic at Paris Saint-Germain, though, as he plundered 156 goals in 180 appearances, and a former colleague at Parc des Princes says the 35-year-old was never afraid of talking up his status in the French capital.
Stambouli told Spox when pressed for his favourite story regarding the enigmatic frontman: "We were with the physios, getting a massage, TV was on. Zlatan was injured at that time but expected to play the next match.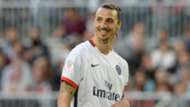 "Suddenly the headline 'Zlatan, the Return of the King' appeared on TV. He asked me to translate this for him. I am pretty sure he knew what it meant. I translated the sentence and he said 'Benji, what the hell is this? I'm not the king – I am God!' And we both laughed hard about this.
"It's like a little game he plays with his teammates, with the whole world. Even when you've got to know him, there's still something mysterious that surrounds him."
He added: "Zlatan is very intelligent. You even notice that on TV, when you see him play. In his private life, it's even more so.
Ibra: Mou tells you if you are s***
"He has a good and fast knowledge of people, he's extremely charismatic und very dominant at the same time. Nevertheless he jokes about this. He laughs about his reputation but he is very confident."
While Ibrahimovic was heading for the exits in Paris as a free agent in 2016, Stambouli was also preparing to pack his bags.
He eventually completed a switch to Bundesliga side Schalke, with both men leaving PSG without being able to help the club achieve their ultimate target of claiming the Champions League crown.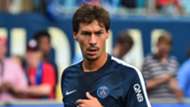 Stambouli feels that challenge has taken on an unnecessary level of importance at the French title holders, with too much emphasis being placed on the pursuit of continental honours.
He added: "This obsession is a stain for PSG. It devalues the national titles because everybody takes them for granted now.
Giggs: Man Utd over-reliant on Zlatan
"It's okay to aim high. But it's the same goal that Barcelona, Real Madrid, Bayern and Manchester City have, too. PSG is not the best team in the world. There's not automatic way of winning this competition.
"If they can keep their team for a couple of years, maybe it will happen some day. But this is far from being secure."
PSG are currently in danger of losing their grip on the Ligue 1 title, with three points clear at the top of the table with seven fixtures remaining.