Emanuele Giaccherini
'If Conte calls, we'll fly to Chelsea' - Sunderland flop Giaccherini the surprise star of Euro 2016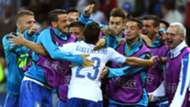 ---

COMMENT
---
In the dressing room before Italy faced Spain in Paris on Monday, Emanuele Giaccherini stood up in front of his team-mates and declared: "Tactics and talent can only take you so far. What we need today is heart." They roared with approval. Giaccherini may be one of the smallest players in a squad containing giants of the game such as Gianluigi Buffon - but not one of them has a bigger heart than the diminutive midfielder.
When he was just 15, he was involved in an awful collision with a goalkeeper that resulted in him having his spleen removed. Even now, he is forced to have injections three times per year to prevent any possible infections. Giaccherini didn't allow anything or anyone to get in the way of him realising his dream of becoming a professional footballer. Throughout his teenage years, he was told that he was too small to make it; that he didn't have what it takes to play at the highest level. He kept fighting, though, kept battling, working his way up from the Lega Pro Prima Divisione to Serie A with Cesena. He flourished in the top flight, too, with his seven goals earning him a move to the mighty Juventus in 2011.
His arrival in Turin coincided with that of Antonio Conte. No coach would have a bigger impact on Giaccherini's career. The Talla native never managed to nail down a regular place in the starting line-up - as his agent, Furio Valcareggi, pointed out, he had four midfield "monsters" ahead of him in Andrea Pirlo, Paul Pogba, Arturo Vidal and Claudio Marchisio - but he proved an excellent and versatile squad player, filling in wherever required. Valcareggi quite rightly claimed: "Coaches fall in love with him."
Conte was certainly enamoured with him - and it was a similar story with Cesare Prandelli, who included the uncapped Giaccherini in his squad for Euro 2012 and then gave him his international debut in their tournament opener... Against reigning European and world champions Spain... As a wing-back. He didn't let his coach down. He never does.
The following summer, though, Giaccherini looked poised to prove himself a world-class midfielder after starring at the Confederations Cup in Brazil. For Conte, it was vindication of what he had been telling everyone for years: "If he were called Giaccherinho, he would be more highly rated."
As it was, though, Juve cashed in on Giaccherini's attention-grabbing performances in Brazil and sold him to Sunderland to raise funds for other acquisitions. Conte was devastated.
"I'm happy for him but unhappy for me," he confessed. "I'm not happy with the sale of Giaccherini but, in times of crisis, when you buy players, you must also make sacrifices."
Giaccherini, for his part, could not say enough nice things about the man he made him an integral part of a squad that had won back-to-back Serie A titles.
"In the last two years he has given me the possibility to shine and make a name for myself," he stated. "A big part of my success is down to him. I thank him for that."
Giaccherini scored in just his second Premier League outing, against Southampton, but struggled to adapt to English football. The sacking of the man who had signed him, Paolo Di Canio, hardly helped, as his fellow Italian had been helping him with the language. Injury also ruined his second season at the Stadium of Light and it was no surprise that he returned to Italy in 2015 to join Bologna on loan.
By that stage, Giaccherini had lost his place in the Italy squad. The star of the 2013 Confederations Cup didn't even make Prandelli's provisional 30-man squad for the World Cup the following year.
However, Conte's appointment as Prandelli's successor in the summer of 2014 was a godsend for Giaccherini. He knew that if he could rebuild his career at Bologna, he might be able to force his way back into the Azzurri set-up. Conte had always remained in contact with him, even after his departure for England.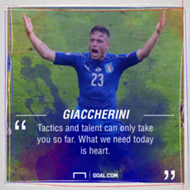 Happily, Giaccherini had a fine season at Bologna and was promptly recalled by Conte in time for Euro 2016. Even then, there were doubters. Right up until the 32nd minute of Italy's tournament opener against Belgium. At that moment, the No.23 who was being vilified on social media instantaneously controlled a fantastic long pass from Leonardo Bonucci before coolly slotting the ball past Thibaut Courtois to put the Azzurri on their way to a famous win. He turned in an even more dynamic display in the 2-0 defeat of Spain in the last 16.
Afterwards, he refused to make it all about him, though. "I'm pleased with my performance but ultimately it's about the team and result," he explained. "I'm always willing to help out the team, I always do what the coach asks of me."
As a result, the next question Conte asks of Giaccherini could well be whether he would like to join him at Chelsea after the Euros. If he does, we already know the answer, with his agent revealing earlier this week, "If Conte calls, we'll fly to Chelsea!"
He may not be the biggest name in world football. He may not be Giaccherinho. He's Giaccherini and what he lacks in stature, he makes up for in heart.