Mamelodi Sundowns
I would like Pitso Mosimane to be the Alex Ferguson of Mamelodi Sundowns, says Patrice Motsepe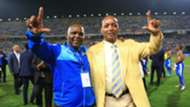 Mamelodi Sundowns president Patrice Motsepe hopes that coach Pitso Mosimane can replicate the longevity and success of the former Manchester United coach Alex Ferguson.
Mosimane took over a struggling Sundowns outfit almost five years ago, where they found themselves in the relegation zone. But following the Brazilians' early struggles they have now developed into a force to be reckoned with not only in the Premier Soccer League but also on the continent.
Subsequently, this has led club boss Motsepe to give the former Bafana Bafana coach a vote of confidence.
"People who have worked with me, outside football, have always worked with me for a long time," Motsepe said.
"I have been privileged to work with some of the best people for many, many years," he continued.
"The same thing in football. When I bought Mamelodi Sundowns, the objective was to have a management and technical team that can be with the club for many years as possible, including when we aren't doing well.
"That's when a club can reap the benefits of that experience. We all learn and we all make mistakes. At times we don't succeed and at times we do well," he added.
"There is nothing that will please me more, personally, than for Pitso to stay here for a long time. That's when a club can reap the benefits of that experience.
"It starts with me…The longer a person is in the same position, the greater the consistency and the experience is highly beneficial," Motsepe explained.
"I would like Pitso to be, I don't want to say (Arsenal manager) Arsene Wenger because Arsene Wenger has challenges.
"I would like him to be the Alex Ferguson of Mamelodi Sundowns… Pitso, in South Africa, I'd like him to be the Alex Ferguson of South African football," he concluded.