African All Stars
I will enjoy everyday at Tottenham, says Serge Aurier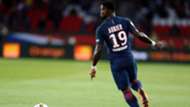 Tottenham's new signing Serge Aurier says he plans on enjoying everyday he spends at the club.
The English top flight club brought him in on transfer deadline day from Paris Saint Germain for £24million after the sale of Kyle Walker to Manchester City.
And the Ivory Coast international who is no stranger to controversy is looking to put the past behind him and focus on starting a new chapter at the North London club side.
"I'm happy to sign here, it's a big club in England,"  Aurier told club website
"I'm very excited to start (with the team) on Saturday.
"Tottenham is a good club. I'm happy with my choice. It's very important for me because the coach, the club, the attitude is very good.
"For me, Paris is in the past now and it's all new - new life, new story, new country! I come to Tottenham to play football. I'm happy to be here. For me, it's all good. I'm excited for the start of the games.
"I'm happy to be here. I have good friends. The team has big, big character and is at a big moment. I will enjoy every day." he concluded
The Ivorian fullback will have a chance to showcase his talents when Tottenham visit Goodison Park to tackle Idrissa Gueye's Everton on Saturday.