Manchester United
'I trust his strength and optimistic character' - Wenger offers support to Ferguson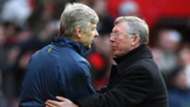 Arsene Wenger hopes Sir Alex Ferguson's "strength and optimistic character" can help the former Manchester United manager in his recovery from a brain haemorrhage.
Ferguson underwent emergency surgery on Saturday, with his old club confirming the procedure was a success but that the 76-year-old would need a period in intensive care.
The Scot had made an appearance at Old Trafford less than a week before falling ill, presenting Wenger with a special gift in recognition of his years of service prior to United's 2-1 win over Arsenal.
Addressing the crowd after his final home game in charge, Wenger sent his best wishes to his long-time rival.
"Firstly, because at Arsenal we care, we would like to wish Alex Ferguson to get well very quickly," he said at the start of his speech.
The Frenchman later added to Sky Sports: "I am concerned because last week we were together.
"I offer just a message of support. I trust his strength and optimistic character to get over it, and well."
The boss has also been discussing Sir Alex…

"I was on the pitch with him last week. He was very happy but anything can happen. We wish him all the best and that he recovers quickly. He's a strong man and an optimistic man, too."

Get well soon, Sir Alex. pic.twitter.com/0n2aJINkQO

— Arsenal FC (@Arsenal) May 6, 2018
Chelsea manager Antonio Conte, meanwhile, said the news about Ferguson was on his mind during preparations for his side's 1-0 win over Liverpool and he also wished him a quick recovery.
Conte played against Ferguson's United side for Juventus in a number of Champions League clashes and he spoke of their relationship after his team's victory, which came thanks to a first-half goal from Olivier Giroud.
"I am very sad," he told reporters. "I have had the possibility to know him and his wife, to understand this is a special person. Not a normal person.
"He won many titles in his career and I appreciate the man. Yesterday the news changed my day in a bad way.
"We hope to see him recover quickly and our best wishes for this. Now it is very difficult and we want to stay close."
Liverpool boss Jurgen Klopp put club rivalries aside to join his managerial counterparts in wishing Ferguson well.
"I met Sir Alex after the first leg against Roma, he was there with Gerard Houllier," Klopp said.
"I had a few words with them. When I heard it on the way to London I couldn't believe it. He was last night and will be 100 per cent in my prayers.
"I'm looking forward to seeing him again."