Indian Arrows v Mohun Bagan
I-League 2018-19: Sankar Lal Chakraborty - Exposure trips have given Arrows a lot of experience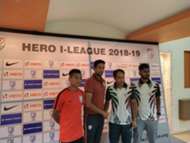 Mohun Bagan have got off to a shaky start in the I-League after dropping four points in their first two fixtures. They next face Indian Arrows at the Barabati Stadium in Cuttack and coach Sankar Lal Chakraborty did not mince words while making it clear that his team will settle with nothing less than three points. 
"Our target is three points, so the goal coming early or late doesn't really matter. We have to win tomorrow's match. From what I have seen in their past two matches, they have the enthusiasm to run throughout the 90 minutes which is an advantage of being young. So we have to remain cautious," said Chakraborty. 
The Indian Arrows team have been crisscrossing the world to test their mettle against stronger opponents. So the Bagan coach does not think that the team lacks experience. 
"It is not easy to beat this young team. They have done a lot of exposure trips across the world and that means they have the experience. But if we feel pressure, then we will not be able to recognise the improvements (that we are making) in every department. I always emphasise on maintaining a clean sheet. Our ball possession was excellent in the previous match. We created so many chances. We are looking at the positives. A win would give us confidence and that's why we are here. We missed five-to-six chances in the previous match and most of them were by Aser Dipanda and Henry Kissekka. But the positive thing is that those chances were created. Yesterday they missed but today they can score," explained Chakraborty.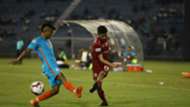 Meanwhile, Indian Arrows coach Floyd Pinto looked upbeat after defeating Shillong Lajong 1-0 in their previous match but at the same time sounded cautious about facing Mohun Bagan. 
"It was good to get our first win in the maiden home game. Any team in I-League would be tough for us and especially with an all-Indian squad. Going into this game, we have been training very hard. We need to be quicker and sharper if we hope to get anything out of this game. 
"Every match is different. All we can do is try and analyse as much as we can from the opening two games of this season and try and prepare ourselves and do the best we can on the ground. We can't plan for individual players as I have 10 fingers on my hand and they have 11 players. We just need to be good both on and off the ball and improve every match," stated Pinto. 
Both teams have no injury concerns and have the whole squad available for selection. It is expected that Sony Norde will continue to warm the bench for the bulk of the match and can only be used in the last quarter of the match.