I-League
I-League 2017: Gift Raikhan credits players, Bino George calls for patience to get things right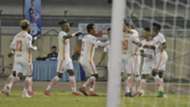 Gift Raikhan conceded that he focused on his side's defence when his team locked horns with Gokulam Kerala FC at the EMS Stadium in Calicut on Saturday. The plan worked wonders for the head coach as he saw his side hand out a 3-0 defeat to the home side under the scorching sun.
"We got three points and a good scoreline. Our plan was a success today. We got it because we have good players. All the credit goes to our boys. I focused on the defence today. In attack, I gave them the licence to do whatever they want."
The game kicked off at 2 PM under the scorching sun and the players had to endure 96 minutes of heat on the field, including two water breaks in either half. 
"We can not help it [weather]. It is amazing that our players are playing 90 plus minutes," said Raikhan, who also issued an update of Gouramangi Singh's fitness. "Gouramangi has an issue with his hamstring. He is resting. After two-or-three matches, he will come."
Gokulam Kerala coach Bino George was unhappy about the resulted and lamented the forced changed he had to make due to injuries to his foreigners.
"It affected the team [changes]. I am not happy with the result."
"Most of our players are playing in the league for the first time and hence were unable to take risks in the game. We will look into the game and analyse how the goals were conceded. Emmanuel will return for the next game. "
Bino is hopeful about the club's future and called for time to get things right. 
"We are a new team. It has just been 8 months. The notification we got from All India Football Federation (AIFF) was late. NEROCA are a team that qualified from the second division. We need time. We won't get results quickly and we will try."