I-League
I-League 2017: East Bengal's Trevor Morgan - 'Players walk themselves into the team and players walk themselves out'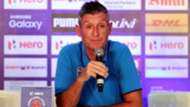 East Bengal coach Trevor Morgan expressed his disappointment after a 1-1 draw against Shillong Lajong at the Kanchenjunga stadium in Siliguri. He felt the decision-making from his players left much to be desired. 
"We didn't win because we didn't do the right things in the game. There is no dip in form, but there is dip in making important decisions when on the ball. It is always disappointing to concede goals that the opposition don't have to work for. The goal came from our own bad play," he fumed.
Report: East Bengal 1-1 Shillong Lajong
"It was not a good performance as a team. Too many misplaced passes. Too many crosses that went wrong and too many shots that did not go on target. Players walk themselves into the team and players walk themselves out," Morgan added. 
Clearly, the Englishman was not happy with the attitude of several of his players and went on to sound a warning to them. "The team has been together since December and we are nine games into finding out about each other. Now it is the time, when things are not so good you find out the players' character. When you are winning, the bad things hide but when you lose you've got to mend those. You find out who are the players who want to win and who want to be carried along with only the euphoria of winning. This is a good time to find out what you are made of," he observed. 
The 60-year-old felt that several bad habits displayed by his players were the reason for a draw and felt that goalscorer Willis Plaza should not be overburdened.
"We cannot rely on Willis every week to get us out of trouble. Other players have to stand up and do their work as well. We were not technically outclassed and we did everything right in the first fifteen minutes. As the game went on, the bad habits of our players came to the fore and the game became quite stretched," he assessed. "We are trying to correct our problems but once the players have crossed over the line, there is nothing you can do," he reasoned. 
The former Dempo coach conceded that East Bengal have lost out on an opportunity to consolidate their lead atop the table. "We are disappointed that we went in to get six points or even four  (from the two games in Siliguri) could have done but we have dropped four points. If we conceded three goals today and won 4-3, I would have been happy," he concluded.