I-League
I-League 2017: Churchill Brothers appoint Derrick Pereira as new head coach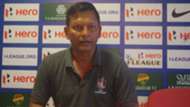 Halfway through the I-League 2016-17 season, Churchill Brothers have roped in the services of Derrick Pereira as their new head coach, Goal can confirm.

The former Salgaocar player and manager, Pereira was associated with DSK Shivajians before being released of his duties at the end of last season. However, a contract-signing and ratification is impending by the league authorities before he could take his place in the Churchill dugout ahead of their home game on Sunday against Minerva Punjab FC.
Neymar visits Man City star Gabriel Jesus in hospital

The Alemao family-owned club were long awaiting the arrival of Joseph Afusi to re-join the club from December last year. The process ultimately failed as the Nigerian coach was not able to obtain a visa for India.

"I got a call yesterday (Thursday) to find out if I am interested or not. I chatted with them today (Friday) about what they wanted to do with the club and then we decided we start from tomorrow (Saturday)," said Pereira when contacted late on Friday evening.
Be like Zlatan! Ibrahimovic shares his life tips

Alfred Fernandes, who filled in as the first-team coach since the beginning of the season will now be second-in-command to the 54-year-old. "It will be great to have such an experienced man working with the club and what makes it more exciting that we have been friends and we will be working together," said Fernandes of Pereira's appointment.

The Red Machines are placed 10th - at the foot of the table after nine games with only six points to show. Churchill are looking out for one more foreign signing to complement their trio of Bektur Talgat, Ansumana Kromah and Anthony Wolfe.