I-League
I-League 2017: Bengaluru FC's struggles on the road stoke fears of a 2008-09 East Bengal season repeat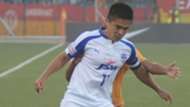 Going into the 2017 I-League season, there were high expectations on Bengaluru FC. Not only were the Southern Eagles the defending champions, they had a squad studded with experienced campaigners and promising talents - Sunil Chhetri, CK Vineeth, Eugeneson Lyngdoh, Sandesh Jhingan, Harmanjot Khabra, Udanta Singh and the list goes on. To add to that, foreign recruits Juanan and John Johnson along with Cameron Watson meant that the Bengaluru FC squad had an aura of invincibility even before the season began. 
Why did Kolkata derby disappoint?
On top of all this, they were coming off a scintillating 2016 AFC Cup campaign. The first three games - all home wins - only went on to reassert this aura as Albert Roca's possession-based gameplay seemed to be bearing fruits. He was also experimenting with a three-man defence with Watson dropping back and Khabra and Ralte playing more as wing backs. Though it seemed to work at first, the first signs of cracks appeared in the away game against East Bengal FC - the first real test Roca's side faced this season.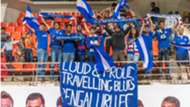 The slow Bengaluru defence was mercilessly exploited by Trevor Morgan's pacy attackers who launched the ball forward on counters and chased them down, much to the chagrin of The Blues' defenders. The final scoreline of 2-1 in favour of the home side was perhaps more flattering for Bengaluru than the game actually was. 
Disconcertingly, Eugeneson Lyngdoh who dictates the gameplay in midfield was having a shoddy season which coincided with Sunil Chhetri's loss of form in the early part of the season. 
The most concerning fact was that Roca failed to change his possession-based approach to the game despite being found out repeatedly by East Bengal. He went on to assert a couple of times that he will not change the way his team builds up attacks. The problem with this approach was that once they lost the ball, Bengaluru's defenders did not have the pace to retrieve it and prevent counterattacks. 
I-League: Statistics after round eight
Chesterpoul Lyngdoh and Surabuddin Mollick profited from the slow Bengaluru defence next, helping Churchill Brothers to their only win in the league this season. The injury to Sandesh Jhingan was also a setback and the highly-rated defender returned only for last Saturday's game where he inadvertently scored an own goal that denied Bengaluru a win against Minerva Punjab.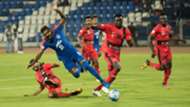 The Blues are now winless in five games in all competitions (of which four were away) and a season that began like a roaring waterfall has trickled down to a narrow stream. 
All of a sudden, a three-horse race for the I-League title seems to have narrowed down to a two-horse one. Now at fifth position on the table, Bengaluru are in serious danger of mirroring the season East Bengal had in 2008-09. 
The Red and Golds, coached by Manoranjan Bhattacharya, arguably had the best Indian contingent in the competition. Sunil Chhetri had just become the poster-boy of Indian football, having scored a hat-trick in the AFC Challenge Cup final and ensuring India's qualification in the AFC Asian Cup for the first time since 1984. They had a stellar supporting cast as well; the likes of Renedy Singh, Mehrajuddin Wadoo, Subrata Paul, Syed Rahim Nabi were all regulars in the national team in their prime.
Colm Toal quits Minerva Punjab
However, their strength on paper was not translated into displays on the pitch. The team had a horrific journey on the road, winning only one of its 11 away encounters – a club record in the National Football League/I-League era. Despite changing coaches twice and bringing in Stanley Rozario and Subhash Bhowmick, it was baffling to see how they struggled as a unit, punching much below the sum of their individual weights.
But those were very different days in Indian football. You could put money on anyone among Churchill Brothers, Sporting Clube de Goa, Dempo, Mahindra United or the two Kolkata clubs to win the league title. Now, it's a three-team race, with all due respect to Aizawl FC and Shillong Lajong. Finishing fourth or worse in this campaign will be counted as a result worse than East Bengal's sixth place finish in 2009, which is the worst ever showing by such a strong squad.
To avoid this debacle and reduce their gap with the two Kolkata giants, Roca will have to sort the issues. The new striker to be signed by the club will not be available before the home game against East Bengal, which is touted to be a six-pointer.
I-League Team of the Week: Round 8
Till date, all I-League champions in the history have seen their foreigners playing a decisive role. This is in exact contrast with the defending champions, who have seen their two foreign centre-backs, John Johnson and Juanan, struggle on the field and then getting suspended for violating the code of conduct. Only a single goal has come from the foreigners that too from Roby Norales who has already departed for cross-town outfit Ozone FC. No other side in the competition has a worse record in this aspect.
Help Eugeneson Lyngdoh get back his form, mix some prudence to the 'tiki-taka' and find a foreign striker who can take the load off the back of CK Vineeth and Sunil Chhetri. Everyone knows about the remedies of the Blues' problems, but Roca has to carry out the operation soon to resist any further damage.