I-League
I-League 2017-18: Khalid Jamil rues vital points dropped as Bino George exults in another giant killing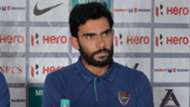 Gokulam FC recorded their second victory over a Kolkata giant within the span of five days when they beat East Bengal by 2-1 in a heated I-League encounter at Calicut on Saturday.
The loss prevented Khalid Jamil's men from overtaking Minerva Punjab in the league table and leaves them in third spot, three points behind second place and five behind the leaders NEROCA FC.
The failure to collect three points could prove costly for East Bengal in the title race as Jamil admitted as much in the post-match press conference.
"We lost vital points. Lack of concentration hurt us in the second half," he stated. The East Bengal tactician credited the opposition for their display saying, "Gokulam played well and worked very hard. They played as a team. They deserved the victory."
The former Aizawl FC coach also explained why he withdrew youngster Yami Longvah in the second half. "I replaced Yami at half-time because we scored a goal and decided to tighten the defence. He played well," Jamil remarked.
His opposite counterpart, Bino George on the other hand, was unsurprisingly elated for collecting another giant scalp after having toppled Mohun Bagan five days earlier.
"To defeat such a big team as East Bengal, I am very happy," George said. The Gokulam coach felt that his players were now getting a hang of the system and praised Ugandan striker Henry Kisekka for his instant impact.
"Players have started to implement what we have been doing in training. Ubaid was helpless on Henry's strikes that hit the bar," he added.
The win however, has come at a cost for the new league entrants with several players picking up injuries. "Mahmood Alajmi pulled his groin. Daniel Addo and Henry (Kisekka) have also picked up injuries," George informed.
Kivi Zhimomi got the equalizer for Gokulam on the day and George applauded the forward's hard work. "People get frustrated when Kivi loses the ball in good areas but the fact that he gets to those areas, it is his hard work," he stated.
The coach also credited the foreign signings for his side's turnaround this season saying, "Gokulam's change is mainly due to the foreigners. We missed a player like Henry (Kisekka) at the start of the season."
The Kerala outfit has shown some great attacking displays against the two Kolkata rivals and George exclaimed that it is how he wants his side to approach any game.
"That's how we train. I ask my players to play the ball around in the opposition half. We followed our usual game-plan," he said before concluding.