I-League
I-League 2017-18: Gift Raikhan - Nothing less than a win will do for NEROCA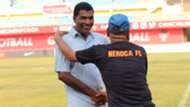 NEROCA head coach Gift Raikhan believes the fixture against Churchill Brothers is the best opportunity for his team to mount pressure on league leaders Minerva Punjab. A win for NEROCA will help them to the top of the I-League table although Minerva Punjab will have games in hand.
"We need to work and be confident to get three points. There is no other option. We cannot lose three points. We have to go all out. This is the best opportunity we are getting for this season. Everybody knows that we need to work hard," said Raikhan.
Raikhan has had a tough time drafting his key players into the starting lineup due to injuries but the coach is confident about his replacements.
"Injuries are there. Every team has injuries. We have enough replacements. I haven't decided (about Lalit Thapa) yet. We will take a decision before the game," added Raikhan.
Churchill Brothers lost to NEROCA 1-0 at home and coach Alfred Fernandes is plotting a fightback to maintain his team's good run in 2018. The Goan side has only lost two games since the turn of the year.
"We have already played against them (NEROCA) in Goa. We lost 1-0. We are expecting a tough match tomorrow. We have come fully prepared and hoping to get something out of this match tomorrow."
"We always target three points. When they travelled to Goa they came home with three points. We have to take our chances and try to get three points. Expecting a tough game tomorrow. Home team always come tough on us," conceded Fernandes.
Churchill revamped their squad in the transfer window with the addition of new players but are still marred by injuries.
"We have some injuries. In a long league, we are bound to have some injuries. We have a big squad so whoever goes out, another player will come in. The one who comes as a replacement will give his best," he concluded.