I-League
I-League 2017-18: Khalid Jamil - I am just happy about the three points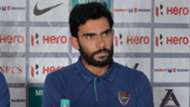 East Bengal ran riot against a helpless Chennai City FC in a do-or-die clash on Saturday afternoon in Kolkata. The Red and Golds outclassed the Southerners 7-1 to remain in the title race.
This was undoubtedly the best performance of the season for Khalid Jamil's men who flared up at the right time of the season. Dudu Omagbemi scored four times to inspire his side to glory.
Coach Khalid Jamil did not sound too excited after a historic win over Chennai. Speaking about the performance, Jamil said, "I am just happy about the three points. It doesn't matter if its a 1-0 or 7-1. We have to look forward to the challenge that is before us and we have to stay focused. I dedicate this victory to our fans and supporters who have been with us all throughout. We have to give our best in the upcoming games and take confidence from this game."
Hat-trick hero Dudu dedicated the goals to his teammates. He said, "It is nothing special. I have scored four goals in a game earlier when I used to play for Sporting Clube de Goa. But special thanks to the coach to keep his belief in me and I dedicate this victory and four goals to my colleagues. It is just the beginning. We are positive about what our game should be in the last two matches. I am not bothered about other teams and the results. We know what we have to do."
Chennai coach V Soundararajan complimented his opponents for being tactically sound throughout the game. "East Bengal were tactically astute and kept their position alright throughout the game. We could not beat that and that is why we had to face such a result. These things happen, one cannot help. But we have one game remaining and we have to come back well," said the Chennai City boss.
Soundararajan's men are still in the relegation zone and there is a possibility that the team may get relegated to the second division. The coach, though sounded oblivious when asked about the relegation threat. He said, "I don't know the maths. I don't know if we are going to get relegated but we took entry last year as a corporate entry. Don't know the rules properly if we could get relegated or not."