I-League
I-League 2017-18: Alfred Fernandes heaps praise on his team after dominant win against Shillong Lajong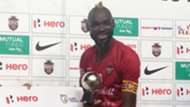 Churchill Brothers romped to a comfortable win against Shillong Lajong as they defeated the northeastern outfit 2-0 in Goa on Friday. Coach Alfred Fernandes was jubilant after the victory and showered praise on his boys.
"As I said before, you will see a completely different Churchill Brothers side from today. We proved that with a victory and hats off to the boys for putting up a good performance and coming out with three points.
"When you talk about performances and results, it is the result that counts. We played good matches previously also but we did not have anything (points) to show for the performances. The first half was brilliant for me. We missed sitters especially in the first 20 minutes which could have put the game to bed. 1-0 is always difficult and we allowed them to come back into the match. But anyhow we stuck together and came out with flying colours," added the former Churchill Brothers' youth development coach.
He reserved praise for defender Osagie Monday who scored the opener and also put in a commendable shift at the back.
"When you chose a leader who can lead the team and who is a pillar of our defence, that's why the armband has gone to him (from Suraj Singh). That doesn't take away credit from the other players but he is someone who is reliable. He has delivered in all the matches and he's living up to the billing as one of the best defenders in Indian football now in his first time in India," said Fernandes. 
The Nigerian centre-back said that he felt more pressure at home than at away games.
"With my experience, I believe [playing at] home is more difficult than playing away because it's compulsory to take three points from all games. It's not easy to play five straight home games but I believe with what we are seeing from the practice sessions and the encouragement from the boss and coaches, we will not leave any stone unturned," said Monday.
But the Goan coach was in no mood to take their next opponents Indian Arrows lightly, although the youngest squad of I-League is going through a rough patch.
"Every time you enter a new match, everything starts with 0-0. Every match is a battle for us. With the sort of confidence that we have now, my boys are ready for any team. That doesn't take away the respect that we have for the Arrows. 
"Arrows is a very good team who have lived up to the expectation of the people and also have the cream of the players who are coming up. You cannot play with fire. They will be extra motivated to play against Churchill Brothers," stated Fernandes.
Shillong Lajong assistant coach Alison Kharsyntiew was clearly disappointed with his team's wastefulness in front of goal. 
"We dominated in the second half until the second goal was scored. If we had scored our chances, it would have been a different game. We had the best chances in the first half. We know that Churchill have good players like Kalu (Ogba) and (Mechac) Koffi. We had plans for them but the problem was that we couldn't score," said Alison.