Cristiano Ronaldo
How Santos can get the best out of Portugal... and Ronaldo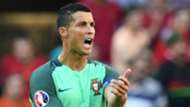 ---

COMMENT
---
Portugal have played patchily at Euro 2016 so far, recording three draws in three games, and so has has their star man Cristiano Ronaldo. There is a conundrum for coach Fernando Santos to solve ahead of the round-of-16 clash against Croatia on Saturday night. In the first two matches – against Iceland and Austria – Portugal played some of the best football seen at the tournament but were unable to move ahead in part due to Ronaldo's inept finishing.
The three-time Ballon d'Or winner turned his own personal form around in the 3-3 draw against Hungary on Wednesday, which secured their place in the knockouts. Ronaldo played well, turning in a performance which ranks among his best ever in Portugal colours, but the team around him struggled for balance, leaving the back four and goalkeeper exposed.
Ronaldo played a near-impossible pass to set up Nani to score in the first half. He did it from a position seemingly of his own choosing. He tired of the poor service he was receiving and took it upon himself to drop deep to try to make something happen. That was unlike him and not exactly what is expected of him in his centre-forward role in the Portugal formation.
He was there in the second half, too, to drag his side level following Balazs Dzsudzsak's first deflected effort. Ronaldo's back-heel goal was among the best seen so far at the Euros, demonstrating all his class and inventiveness. His header for 3-3 was typical of the man. It was only against Hungary that he has looked like Real Madrid's superstar.
So we know Ronaldo can score and we know Portugal can play well. Now it's just a matter of stitching both together. Santos has some excellent players in his squad but needs to make sure unity within the team is not sacrificed in order to keep Ronaldo in form.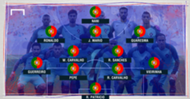 There are key criteria Portugal need to fulfil in order for that to happen. It will require width from the full-backs, a hard-working midfield to distribute the ball and a wide player on the right to help make space for Nani and Ronaldo. Moreover, Santos should now ditch the two-pronged attacking solution and play Ronaldo from the left where he stars every week for Real.
Raphael Guerreiro has been exceptional at left-back and Eliseu could not match his output in the game against Hungary. He will come back into the team, with Vieirinha on the other flank Portugal's best source of crosses and passes into the box. Pepe – despite his own questionable form – should continue his partnership with Ricardo Carvalho in the centre.
The manager has tinkered extensively in midfield, too, where he has been unable to coax consistent performances out of talented players. He changed from a 4-4-2 formation against Iceland to a 4-3-3 against Austria before switching back against Hungary.
Danilo started the tournament as the holding-midfield player but has since lost his place to William Carvalho. The Sporting star was very good against Austria but was largely bypassed against Hungary. Andre Gomes has decorated games but not truly influenced them. Santos, too, appears unconvinced given that he has substituted him three times out of three.
Joao Mario looked marginalised on the wings through the first two-and-a-half matches but found his form through the middle in the third one. Joao Moutinho is a long-standing favourite of national team managers but is beginning to look a man too many in the midfield. Renato Sanches – the teenager who replaced him at half time in Lyon – looks like he is worth a start at this stage.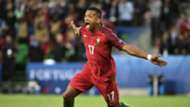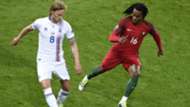 Up front, it is Nani and not Ronaldo who has been Portugal's most consistent player. He has scored two goals in three games and is doing a good job of leading the line as a makeshift No.9. He has threatened on crosses, made good runs in behind and looks assured in front of goal. His form has been a pleasant surprise to the many who were indifferent to his inclusion in the team before the tournament started.
Ricardo Quaresma failed to catch fire in his only start – against Austria – but his ability to get wide and take people on helped Portugal to stretch the deep Hungary defence. He made Ronaldo's second goal on the day. Portugal are playing against teams content to soak up pressure so anything that isolates full-backs is welcome. Quaresma can do this and he also enjoys a natural rapport with Ronaldo.
Key to beating Croatia will be control of the midfield and creating meaningful chances for Ronaldo and Nani. Ivan Rakitic, Luka Modric and Marcelo Brozovic have been among the tournament's top players so whichever three – or four – Santos plays will have to play well. No off days can be tolerated. The holding player – probably William – will have to work hard to make sure Vieirinha is not isolated against Ivan Perisic on the wing.
Ronaldo is the sharpest weapon Portugal have but devising a system to get him scoring that leaves them out of balance elsewhere is foolish. Santos and Ronaldo have managed – just about – to steer Portugal to the knockout stages of the European Championship and will have one more chance to get the balance right when the Seleccao play against Croatia in Lens.
Goal journalists are powered by the Samsung Galaxy S7 and Gear 360