Manchester United v Chelsea
Herrera handball? Costa red card? Referee Madley slammed for Man Utd vs Chelsea display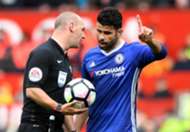 It has become part of footballing parlance that referees are only human and mistakes are to be expected, but still supporters are quick to slate officials if things do not go their way.
This was no different for Bobby Madley, who managed to anger both sets of fans during Manchester United's 2-0 win over leaders Chelsea.
The referee first missed a clear handball from United's Ander Herrera in the build-up to Marcus Rashford's opening goal.
Chelsea striker Diego Costa was then fortunate not to be sent off on a number of occasions.
The Spain forward first shoved Eric Bailly into the post in the opening stages before picking up a booking for a late challenge on Paul Pogba.
That did not deter him in making a nuisance of himself, however, and replays suggested Costa swung an elbow towards Marcos Rojo during one of the pair's many duels at Old Trafford.
And supporters of both clubs made their frustrations known on Twitter...
Robert Madley - Worst ref in the premier league #munche players fool him so easily by diving, he needs to go take notes from Uefa refs

— Howlerr (@howlerrnews) April 16, 2017
9 times out of 10 anywhere on the park that's a handball from Herrerra. Shame was Bobby Madley made it the 10th! Still had to defend it tho.

— Steve Palmer (@SteveP37) April 16, 2017
Costa deserve a red #MAnUtdChelsea

— SB_Blontoz (@stanley_oruware) April 16, 2017
Bobby Madley refereeing the NBA. Just don't double dribble that ball Hererra it'll be fine, nobody will see it. Poor from Begovic

— Ady Fradgley (@AdyFradgley) April 16, 2017
Bobby Madley is another Howard Webb in the making. Literally everytime United players go down at the slightest touch it's a foul. Just BS

— Tom Andrews (@CarefreeTom_182) April 16, 2017
What did you make of Madley's performance? Have your say in the comments below!