Arsenal
Henry has many of the qualities of young Guardiola - Laporta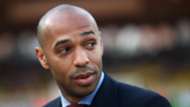 Thierry Henry bears many similarities to Pep Guardiola in the early days of his coaching career, according to ex-Barcelona president Joan Laporta, who backed the former striker to replace Arsene Wenger at Arsenal.
Henry, the Gunners' all-time leading scorer, recently admitted that it "would be a dream" to be considered by the club to succeed Wenger should he leave in the near future as the current boss faces renewed speculation over his future after successive bad results.
A shock home loss to Ostersunds in the Europa League was followed by Sunday's 3-0 thumping against Manchester City in the Carabao Cup final and the prospect of the coach being sacked before his contract expires in 2019 has risen again, with Celtic manager Brendan Rodgers and Germany boss Joachim Low reportedly being considered by the Arsenal board.
But Laporta, who presided over Barcelona when Henry joined from Arsenal in 2007, believes the French legend would be a worthy option for the Gunners as he could make a huge impact on the club just as Guardiola did at the Catalan side.
"The same requirements we were appreciating in Pep Guardiola when we decided to put him as a coach of the first team, Thierry has many of them," Laporta told the Telegraph .
"If he wants to become a coach and more specifically wants to coach Arsenal, then it is because he is convinced he will do it very well because he is looking for excellence all the time - just as when he was a player.
"He knows football, as one of the best players in the world. These kinds of people, like Pep Guardiola and Johan Cruyff, they know football very well. They don't need the extended period maybe that other coaches need to be a great coach.
"He knows Arsenal, the supporters, the club and he's a guy that deserves everything he would like to achieve. I believe he could be a very good coach. For him, with his reputation, it's not acceptable to fail."
Henry has a coaching post with Belgium, assisting Roberto Martinez as they prepare to face England in the group stage of the World Cup.