African All Stars
Helman Mkhalele: What Siphiwe Tshabalala needs to do to succeed in Turkey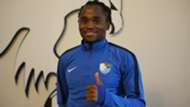 Bafana Bafana legend Helman Mkhalele has shared some of his thoughts on what Siphiwe Tshabalala needs to do in order to succeed abroad.
`Shabba' as he is affectionately known, spent over a decade at Kaizer Chiefs before realising his dream of moving abroad as he recently signed for Turkish Super Lig outfit Erzurumspor.  
Nonetheless, Mkhalele believes that if Tshabalala is to succeed it will come down to how he will adapt to life in Europe.
"I think that will depend on [him as an individual]," Mkhalele told Vodacom Soccer.
"As an individual, how much do you want it, that is the first thing, and you can see that he is an ambitious person. Number two, how do you adapt? As much as you are ambitious, will you be able to adapt to these harsher conditions? That is another defining factor...," he added.
Furthermore, Mkhalele suggested that Tshabalala will need to handle criticism that could be levelled against him, if he does not do well.
"Also, rejection. That is another aspect that you need to overcome. Knowing the Turkish footballer's mentality, when the team is not doing well, like now, the team is struggling, all the blame will be directed to him," he said.
"If he can handle such challenges, if he can handle that blame, if he can handle that rejection, and handle it in a positive way - focusing on his game - then he can even do much better than the other guys like myself, Maimane Phiri, Shoes [John Moshoeu]. He can make a huge name for himself," he continued.
"On top of that, it's the weather conditions. Unfortunately, the team is not doing well and the winter is starting to creep in now," he explained.
"To play under those conditions, especially where he is, it's going to also test his character, but the support of family, the support of friends, I think it will help him to adapt," he concluded.