Premier League
'He tried to dab the ball away!' Twitter rounds on Pogba after handball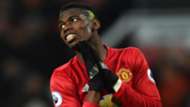 He might have received the honour of a Twitter emoji, but it didn't take long for Paul Pogba to find himself on the receiving end of a social media witch-hunt. 
'Davies pulls Pep's pants down'
The Manchester United midfielder had presented his likeness just days before the clash with Liverpool, as Jose Mourinho's men sought to maintain their excellent run of results at Old Trafford. 
But a senseless handball in his own area gave Liverpool a golden chance from the penalty spot, which James Milner converted with glee. 
And the world's most expensive player went from Twitter hero to zero in just a matter of minutes as users rounded on him for an infantile mistake. 
#Pogba trying to clear that by dabbing.

— FK³ (@fkhanage) 15 de enero de 2017
Pogba dabbed in their box. Unreal mentality

— Danny Welbeck (@WelBeast) 15 de enero de 2017
Pogba trying to make people forget that he gave away the Milner penalty... https://t.co/J7ohdHgGfV

— SportsJOE (@SportsJOE_UK) 15 de enero de 2017
I appreciate it's part of his brand, but would rather Pogba didn't dab when trying to head the ball.

— Liam Canning (@LiamPaulCanning) 15 de enero de 2017
Did Pogba just give a penalty away by dabbing in his own box?

— Spencer FC (@SpencerOwen) 15 de enero de 2017
"Yes, wer're losing, but the Pogba hashtag is trending and that's worth far more than 3 points." -- Ed Woodward right now

— Brooks Peck (@BrooksDT) 15 de enero de 2017
If you have your own transfer trailer and hashtag, you better be good. Pogba has been recently but just not at it so far today.

— Samuel Luckhurst (@samuelluckhurst) 15 de enero de 2017
Pogba - £90m, fancy haircuts, own hashtag, gives away a stupid penalty

Milner - Free transfer, happily reverts to full back, scores the pen

— Paddy Power (@paddypower) 15 de enero de 2017
Paul Pogba making videos with Stormzy while James Milner's at home doing his ironing, and enjoying it.

— Paddy Power (@paddypower) 15 de enero de 2017
Man U fans when Pogba completes that 4 yard pass https://t.co/AA2DeHQsFf

— Simply (@DemPele) 15 de enero de 2017
The Yellow in Pogba's hair is a clear indication that he is indeed playing for Liverpool today. Just forgot to give him the shirt.

— George Benson (@MrGeorgeBenson) 15 de enero de 2017
Pogba needs a timeout in the quiet corner, maybe some apple juice and a digestive biscuit.

— Tricia (@Tr16ia) 15 de enero de 2017