A-League
'He is a sloppy player'- Markus Babbel's scathing assessment of Wanderers attacker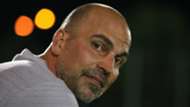 New Western Sydney Wanderers coach Markus Babbel is proving to be a man that doesn't hide behind flattery and has issued a rather blunt assessment of midfielder Roly Bonevacia.
The former Wellington Phoenix player joined the Wanderers last season but struggled to impress under Josep Gombau, who he reportedly had a falling out with.
Now working under Babbel, Bonevacia has found himself deployed on the wing rather than in his previously preferred position as a number 10.
And the German coach certainly wasn't afraid to explain exactly why he's decided to switch Bonevacia's positioning.
"Because Roly is sloppy - he is a sloppy player," Babbel told Fox Sports. 
"He brings everything, he runs, he is quick, he is good physically, technically good. But his passes are sometimes awful - he can do so much better.
"If you play a number ten who can't play a key pass, then it makes no sense for me to put him in there."
The switch appears to be paying off with Bonevacia netting twice in the Wanderers FFA Cup run to double his previous number of goals for the club.
While Babbel didn't shy away from criticising his player, the German also stressed the quality Bonevacia can bring to his side. 
"What I do know though - Roly can score goals," he said.
"As a winger, if he misses the pass, or a cross, then it's not so dangerous for us than when he loses the ball in the centre.
"If he learns to concentrate and is not so sloppy in his passing, then he can be an outstanding player.
"I always talk honestly - with Roly too. He can play in Europe easily, no problems. I think his target is to go back to Europe, and I want to help him."