Eden Hazard
'He has too many off days' – Hazard not a patch on Messi, says Keane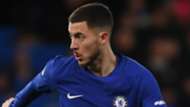 Roy Keane has laughed off suggestions that Eden Hazard is the same calibre of player as Lionel Messi.
The pair went head to head on Wednesday as Messi's Barcelona hosted Hazard's Chelsea in a Champions League last-16 encounter, and it was the Argentine who came out comprehensively on top.
Messi scored after only a couple of minutes to give Barca the edge, setting the path for a 3-0 victory, which saw them progress to the quarter-finals 4-1 on aggregate.
The impact Hazard had on the game, meanwhile, was minimal and typified the difference between the two players.
"He can be very, very good but to me there are just too many off days where he's just not up to it," Keane, a Champions League-winning midfielder with Manchester United, told ITV.
"If you're trying to compare him to Messi - he's way behind him.
"Messi and Ronaldo have been doing it year after year. They always seem to be fit. They play 50 or 60 games a season and they produce week in, week out.
"These other players that we talk about don't."
Hazard has contributed 15 goals to Chelsea's effort this season and finished his Champions League campaign with three strikes and four assists to his name.
Messi, meanwhile, has scored 34 times in all competitions, boasting six in Europe plus two decisive passes.