Manchester City
'He has a vision that very few have'- How Brahim Diaz became Man City's most exciting prospect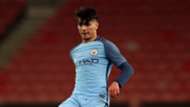 ---
COMMENT
---
With the world's biggest clubs flocking to see Brahim Diaz, one of the brightest prospects in Spanish football, Malaga made their youngster a promise: "If you stay with us, you'll be playing in La Liga when you're 16."
Brahim was not even a teenager at that point but Malaga had decided they needed to act.
The Andalusian club had got ahead of the competition once by snapping him up at seven years of age from local side Tiro Pichon, but by the time he was 10 it was they who were being raided: Brahim had not only been scouted by bigger, richer clubs, he had actually been whisked off to Barcelona and shown around the Camp Nou dressing rooms by Lionel Messi and, in a quirk of fate, Pep Guardiola.
Alexis & Ozil too good for Arsenal to lose
Barca would later reach an agreement with Brahim's father but Malaga's new owners dug their heels in. Sheikh Abdullah acquired the club in 2010 and quickly installed Manel Casanova, who has helped launch more than 150 Liga careers, as academy director.
Before long, the Sheikh, having received an excited phone call from Casanova, was down at the Ciudad Deportivo de El Viso to see Brahim for himself. A 'fast-progression' contract was drawn up almost immediately.
"The clubs don't come to me, they go to the parents," Casanova tells Goal, matter-of-factly. "We tried to fight, we offered him a contract with objectives, sporting objectives, we assured him that if he stayed he would play in the first division at 16 years old. Something that in England he could not have." More on that later.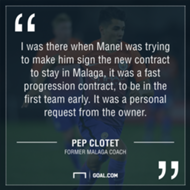 Other factors helped to keep the youngster at Malaga - €10,000 a year and help with his studies, to name but two - but the allure of guaranteed first-team football was decisive, and it was far from an empty promise on the club's part.
"We saw that he was a kid who was different," Casanova explains. "He's a player with great vision. He starts three steps ahead of the others.
"When he receives the ball, he already has three options to carry out. When you are like that they don't know if you're going to go left or right."
RUMOURS: Man Utd plan Dembele bid
Brahim had been using those skills to stand out from the crowd since he was six but, in a bid to accelerate his development, Malaga decided to move him up the age groups. When his peers were with the Under-14s, Brahim was playing in Under-19 tournaments and training with adults.
"I remember many games he was playing above his age; he was very, very good," says Pep Clotet, who coached at Malaga when Brahim was in his early teens. "He was very good tactically, very good technically. Normally the really good players achieve that level when they are 15, 16, 17. Very few players achieve it when they are 12 or 13, and he was one of them."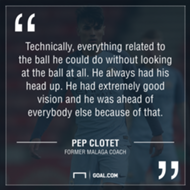 However, Malaga would never find out if he would be ready for La Liga at 16. In December 2013, three months after his 14th birthday, he signed not for Barcelona but Manchester City.
He soon showed off his talents for his new club in the Alkass tournament in Qatar, but would not play another official youth match for two-and-a-half years, so that neither he nor City would receive a FIFA sanction for signing before his 16th birthday.
Not that it hampered his development.
"I see him play in European games for City and for Spain's youth teams and he still has that vision of the game that very few have," Casanova adds, pleased with how the 17-year-old is getting on. There is one problem, though.
"I don't like where he has been played," Casanova continues. "For example, in Manchester, in the European games, they have had him as a central striker. For me, it's not strange, it's an error. He doesn't have the physique to play against defenders like that. He's better as a No.10."
Neymar reveals team he'd leave Barca for
Sources close to the player suggest Brahim himself has privately harboured similar reservations, and he is not the only City youngster to have felt wasted in the last couple of seasons.
In defence of the coaching staff, games spent clashing with centre-backs should stand the diminutive youngster in good stead. Guardiola's mentor, Johan Cruyff, would certainly have approved, and with Guardiola himself planning to take a handful of City's Under-18s to America for pre-season this summer, anything that prepares Brahim for first-team action can only be a good thing.
He has already made his senior debut, in fact, but since a 10-minute EFL Cup cameo back in September he has had to focus his efforts on City's youth teams. On Tuesday night, he will line up against Chelsea in the FA Youth Cup final, the third consecutive year that the teams have met at this stage.
Clotet, Brahim's former coach and currently assistant to Garry Monk at Leeds, says Brahim was "one of the jewels" at Malaga, and he has earned the same status at City, who have as many promising young footballers as anybody in Europe. With Brahim, Phil Foden, Jadon Sancho and Lukas Nmecha, who scored a hat-trick in both legs of the semi-final, City will be hoping to win the competition for the first time since 2008.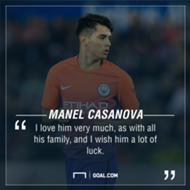 However, for Guardiola, who may not have been able to take Brahim to Barcelona but has been keeping a close eye on him this season, it is talent, rather than trophies, that counts at this level.
Brahim has got bags of it, and under City's careful guidance he has continued to build on everything that has so impressed the coaches with whom he has worked.
With many City fans now hoping he gets his chance in the first team, Casanova, back in Malaga, suggests that may not be the height of his ambition.
"In his heart, he is a Barcelonista," he says, ominously for City fans.
Not that Brahim himself regrets the decision to turn down La Masia: "I don't like to play in the sun; it makes me tired sometimes," he joked last year.
In that respect, at least, Manchester was the perfect choice, and while Brahim may well have become a household name in his homeland had he stayed with Malaga or joined Barca, he is surely not far from linking up with Guardiola - at last.