Manchester United
He came, he saw, he contributed - Zlatan has helped tee up Man Utd for future success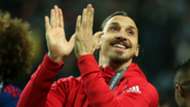 ---
COMMENT
---
"I came like a king, left like a legend," said Zlatan Ibrahimovic when parting ways with Paris Saint-Germain last summer. He leaves Manchester United with his status as one of the great figures of the modern era bolstered, but his career record at Old Trafford is destined to carry an asterisk forever more.
United confirmed on Friday through the publication of their official player retention list that Ibrahimovic has not been offered an extension to his initial one-year contract. The decision comes after the Swede sustained a knee ligament injury in April which is likely to delay any potential comeback until the start of 2018.
Handing a lucrative new 12-month deal to a striker who turns 36 in October and cannot play for the first half of the contract was never really an option for United. Bringing him in in the first place was a calculated gamble at a time when they needed short-term results to get them back to the top table. But in 2017-18, with a Champions League campaign to negotiate and a Premier League assault to mount, Ibrahimovic would have been a passenger.
It is better that it ends this way. Zlatan came in and made a significant mark, converting former critics into begrudging fans with 28 goals in 46 appearances in a 2016-17 season which seemed destined to end with a fairytale finale in the Europa League showpiece in Stockholm until he was struck down in the last eight against Anderlecht.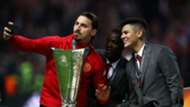 As had happened at Inter, Milan and PSG, Zlatan quickly became United's talisman. The winner in the Community Shield on his full debut set a pace he would maintain for most of his spell. He netted twice on his return to Wembley in February's EFL Cup final and his best scoring run before Christmas sparked United's best form of the campaign.
This was not the flat-track bully many had him down as. Instead it was the big man standing up to the big occasion that United had lacked in recent years.
But, just as the club's season was littered with question marks, so was Ibra's suitability to United in the longer term. When he wasn't finding the net there were regular questions as to whether he was actually helping or hindering Jose Mourinho's quest to rebuild United as a force. His conservation of energy for short, sharp, telling spells in games didn't seem to fit with the team's desire for quality possession.
Morata agrees Man Utd move - report
Perhaps it was the right club at the wrong time for Ibra. Had he come into the kind of setup Sir Alex Ferguson oversaw until 2013, he would have found an outfit ready to win. Maybe if he had a year or two more on his side, he would have gone on to be an unqualified success with Mourinho. The 2016-17 assignment just didn't quite fit in comparison, and just as United's treble success came with an asterisk without a Premier League or Champions League into the bargain so too does Ibra's record at Old Trafford.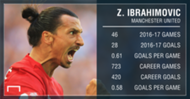 His age dictated that he was one bad injury from the end of the journey and it just so happened that he suffered exactly that. Zlatan will now be remembered fondly by all United fans, but with a nagging feeling of a job not quite done.
It is nobody's fault really that the relationship has come to an end without a bigger triumph, but if United do go on to better things then Zlatan undoubtedly deserves his slice of the credit. He hasn't won 33 career titles by accident, and his winning aura was what attracted Mourinho to him in the first place.
He came, he saw, he contributed. Ibrahimovic won over plenty of English critics, but was never likely to conquer the Premier League all by himself.