Transfers
Hazard warning: Mediocre Madrid need much more than a Bale replacement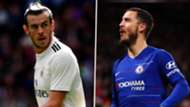 Real Madrid fans made it clear as early as the third minute.
Gareth Bale let a ball skip away from him and Madrid fans whistled the Welsh star, whose numerous winning goals in some of the club's most important games now count for nothing among supporters at the Santiago Bernabeu.
They are fed up of Bale and eager for a new face, a new superstar more accurately, to breathe life into a team that has lost its way this season.
The chose superstar is Chelsea's Eden Hazard, who was plastered across the front pages in the Spanish capital on Saturday, casting a shadow over the team's 2-1 win over Eibar.
It was Zinedine Zidane's 100th league match in charge of Real Madrid – but be one of the most forgettable.
The team haven't always played well under him, but it's distressing to see a Madrid side play with so little desire – two-goal Karim Benzema excepted.
Of course, Madrid are in no man's land right now, with no chance of winning the Liga title.
They are 10 behind leaders Barcelona – for the time being at least – while the 13-point cushion they have on fourth-placed Getafe will surely prevent them from slipping any further down the standings, no matter how poorly they perform.
Hearts and minds have turned to the summer and the reinforcements which the club must make to bolster a team which has collapsed.
Selling Bale and reinvesting that money in Belgian winger Hazard will not solve all Madrid's problems, but it would be a start.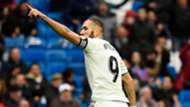 "He's a player I have always appreciated. He is fantastic," Zidane said of Hazard on Friday, amid speculation in Spain that the Belgian's transfer from Chelsea will be finalised in the coming days.
"He has played in France, I have watched him a lot and I know him personally."
Hazard, who signed for Chelsea from Lille, would enjoy a very productive relationship with Benzema.
Just as Hazard loves playing with Olivier Giroud at Chelsea, Benzema's hard work and quality on the ball would prove just as conducive to extracting the very best out of the Belgium international.
And Hazard would give something back too. Benzema is still top-level striker. If anything, at 31, he is playing better than he has in many years and Hazard would help prolong his career at Real.
The winger would draw heat from the defenders, leaving Benzema more room to work his magic.
Bale, sadly, no longer seems to worry La Liga defenders in the same way and cuts a frustrated figure for the duration of Real games these days.
The forward missed a one-on-one against Eibar, and even though he was later ruled offside, fans shook their heads in knowing disappointment.
Madrid's stadium was half-full, and it seemed like those who did turn up were there primarily to tut and jeer, rather than support the players who have racked up a historic four Champions League wins in five years.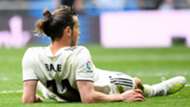 They are ready for a reboot led by Hazard, but this match also showed the team can be improved in virtually every area of the field.
Keylor Navas might have done better for Eibar's opening goal, going down too early, with Marc Cardona lofting the ball over him six minutes before the break to finish off a sumptuous team move.
Raphael Varane, who is weighing up his future at Madrid, looked distracted, while Alvaro Odriozola left an ocean of space in behind for Cardona's goal.
The midfield failed to take control of the game and for long periods it looked like Eibar were going to earn an historic first ever win at the Bernabeu.
Benzema, wired, changed the story singlehandedly. He could have scored a hatful of goals. He bagged two, had another couple disallowed, missed a pair of sitters and then hit the post in the dying seconds.
And this was during a mediocre Madrid performance. Imagine how good he would be with a foil like Hazard!
The Bernabeu's treatment of Bale is difficult to defend but the cold, hard reality is that the people have spoken: they want the Welshman out. And they want Hazard in.
Neither deal can some soon enough as far as the fans are concerned.