African All Stars
Hannover 96 fined for racial slur towards Mainz 05's Leon Balogun, Anthony Ujah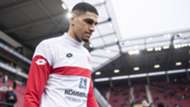 Hannover 96 have been handed a fine of €20,000 for unsportsmanlike behaviour of its supporters towards Mainz 05 duo, Leon Balogun and Anthony Ujah on January 13.
After Mainz 05's 3-2 defeat to Hannover 96, Balogun took to social media to report the racist incident involving him and his compatriot which the HDI-Arena outfit condemned immediately.
However, after series of investigations, the German Football Association through its sports court confirmed that a group of seven to twelve individuals racially abused the Super Eagles duo during the warm-up session.
"The sports court of the German Football Association (DFB) has the Bundesliga club Hannover 96 in individual judicial proceedings after indictment by the DFB control committee because of behaviour of its supporters fined in the amount of 20,000 euros," read a statement on the German FA website.
"During the Bundesliga match against 1. FSV Mainz 05 on January 13, 2018 in Hannover, a group of seven to twelve people had the two FSV players Leon Balogun and Anthony Ujah , who were warming up behind the goal line, recurring over long stretches of the second half racially insulted."