WC Qualification Africa
Gyan speaks on Boakye and Partey after Ghana display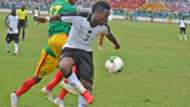 Ghana captain Asamoah Gyan has some special words for teammates Richmond Boakye-Yiadom and Thomas Teye Partey for their impact on the Black Stars' big win over Congo on Tuesday.
Red Star Belgrade striker Boakye registered a double while Atletico Madrid midfielder Partey netted a hat-trick to ensure a 5-1 away triumph in 2018 World Cup qualifying.
"[It was a] great performance from the two players," Gyan told Hot FM.
"Looking at their performance for their clubs, I wasn't so surprised because they are all in form.
"They were consistent at their clubs. Boakye Yiadom scored a lot of goals for his club and has even inspired them to the Europa League group stage. 
"He deserved the call-up and he is showing with his performance.
"I'll also congratulate Thomas Partey for his wonderful show. 
"He also started so well for his club and had a fine form before joining. And he has been able to transfer that form to the national team.
"This is what the national team needs. There must be competition from all angles. 
"Everyone must be ready to prove his worth when handed the call-up. The competition in the team is what can push the team forward."
Boakye, who missed Friday's 1-1 first leg draw with Congo due to a late invitation, has netted twice in three league games so far this season in the Serbian topflight.
Partey, on the hand, scored on his first league appearance for Atletico before the international break.
He perpetuated his fine form in Friday's 1-1 stalemate with the Red Devils, finding Ghana's equalizer in the fixture.