World Cup
Gomez slams journalist after 'worst team' accusation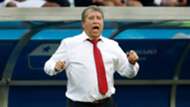 Panama head coach Hernan Dario Gomez responded angrily to a suggestion that his side were the worst team at the World Cup.
The central Americans - competing at the event for the first time - had already been eliminated before Thursday's 2-1 defeat to Tunisia, due to heavy losses at the hands of Belgium and England in their opening two games.
They had looked set on claiming a maiden World Cup victory when Jose Luis Rodriguez's long-range strike was deflected in by Yassine Meriah for an unfortunate own goal after 33 minutes.
Tunisia bounced back in the second half, though, as goals from Fakhreddine Ben Youssef and Wahbi Khazri ensured Gomez's side will return home without a point.
The Colombian was quick to dismiss one journalist's claim that Panama were the worst team at Russia 2018, pointing out how the country's infrastructure compares to many of their World Cup rivals. 
He said: "We are last, yes...but the worst team?"
"You have to start comparing other things, such as the training of footballers and sports education.
"We're the newest team, it's obvious, and the one that has the most difficulties.
"If you see the fields we have, the infrastructure, it's a team that is growing. 
"We all worked extremely hard and played every game against teams that have been to World Cups before.
"You cannot call us the worst team, it's a complete lack of respect."
2 - Panama's goal means this is the first #WorldCup tournament in history in which every team has scored at least twice. Sharing. #PAN #PANTUN

— OptaJoe (@OptaJoe) June 28, 2018
Gomez has been in charge of Panama since 2014 and said he would need to take some time before deciding what his future holds.
"I have received other offers," he added.
"I'm going to take some time for myself and then make decisions. Right now, I'm a little tired."