Kylian Mbappé
Golden Boy Mbappe gets the fright of his life - Ligue 1 goes social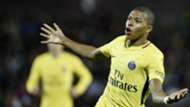 It's getting to that time of the year where ghosts and ghouls start to appear everywhere for Halloween celebrations.
No-one in Ligue 1 knows that better than Paris Saint-Germain forward Kylian Mbappe, who was given the fright of his life by the tricksters at his club.
Many members of the PSG squad were pranked by the social media team, who conned them into believing that they were filming a promotion to wish their fans Happy Halloween. Midway through their interviews, all the lights in the room would cut out, leaving the players in pitch darkness.
Using an infrared camera, PSG show an actor in ghoulish make up sneak up on their stars to make them jump. While some, like Layvin Kurzawa, took it coolly, others were far more dramatic, with Mbappe the best of these.
The teenager literally jumped in the air and took several seconds to compose himself – but at least Marco Verratti had a similarly frightening experience.
While that might have been an unwelcome moment in his week, it had started far better for Mbappe as he was named the outstanding youngster in European football by winning the Golden Boy award. He attracted nearly twice as many votes as nearest rival Ousmane Dembele and beat Manchester United's Marcus Rashford into third.
Unsurprisingly, he was keen to share the news with his fans.
"First Golden Boy," he said. "A big thanks to my team-mates in Monaco, Paris and the France national team, and of course my three coaches, presidents and also my family and you, the fans, who have supported me."
But he was not the only one to be celebrating this week.
Neymar was crowned the game's third strongest player of 2017 at FIFA's 'The Best' awards, coming in behind only superstar duo Cristiano Ronaldo, who won the title for a second time, and former Barcelona team-mate Lionel Messi.
He didn't offer a comment, preferring instead to allow the picture to do all the talking. 
Every week seems to be hectic for these top players, and over the course of the next seven days, Mbappe and Neymar will be strutting their stuff in the Champions League as they attempt to live up to their billing as two of the game's best players.
With Anderlecht visiting Parc des Princes on Tuesday, Mbappe in particular will be keen to avoid an upset – he has had enough Halloween shocks for this year.