Gokulam
Gokulam Kerala to take part in AWES Cup in Goa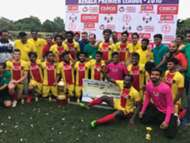 Kozhikode-based I-League club Gokulam Kerala will fly to Goa to take part in the AWES Cup (Association for Wellbeing of Elder Sportspersons) later this month. 
AWES Cup is scheduled to start on August 28 and this will be Gokulam Kerala's second year as participants. Last year, Gokulam FC, under head coach Bino George, reached the final of the tournament and lost to Dempo.
The Malabarians have been busy with their preseason training at the Lakshmibai National College of Physical Education (LNCPE) in Thiruvananthapuram since August 10. The recent floods in Kerala have not hindered the club's preparations.
Under new head coach Fernando Valera, Gokulam Kerala have kept a low-profile in the transfer market so far.
After signing former Kerala Blasters forward Antonio German in the summer, the Malabarians have roped in Evgeniy Kochnev, Fabricio Ortiz and Thiago Fernandes as their foreign players. Mudde Musa will continue at the club this season but last season's star Henry Kisekka has left for Mohun Bagan.