Kaizer Chiefs
Giovani Solinas explains Siphelele Ntshangase snub in Kaizer Chiefs midfield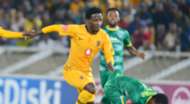 Kaizer Chiefs coach Giovanni Solinas has explained his decision not to play Siphelele Ntshangase regularly this season.
The Amakhosi boss insists that he wants a defensive orientated midfield instead of having more offensive players such as the former Baroka FC player.
"No particular reasons," Solinas told the media.
With the coach preferring George Maluleka, Willard Katsande and Andriamirado Andrianarimanana in midfield, Ntshangase has not tasted game time in the past three games against SuperSport United, Black Leopards and against the Chilli Boys.
"In the last three games we played with Katsande-Maluleka, Katsande and Dax, because in this moment we need balance in midfield. In the last three games we haven't conceded a goal," he continued.
"Not only the defence is playing well but also in front of the defence, the midfielders - they did a good job. Ntshangase is a very good player but Ntshangase is more offensive - a more attacking midfielder," added Solinas.
Moreover, the former Free State Stars boss has backed the ex-Lidoda Duvha creative midfielder, saying he still believes in his abilities and will be back in action.
"In this moment we need two midfielders, two pit bulls to recover the ball. But Ntshangase is very good player, me, I believe in him," responded the coach.
"Ntshangase starts the process in improving the offensive job, because Ntshangase is very good. But the future, Ntshangase will play again," he cocnluded.
On the other hand, the coach is now preparing to face Orlando Pirates in another sold out Soweto Derby where they will meet in the Telkom Knockout Cup semi-finals at the Moses Mabhida Stadium next week.
In an aim to avoid their second successive defeat to the Buccaneers in all competitions, it remains to be seen if Solinas would be tempted to lean towards the Ntshangase, Maluleka and Katsande partnership to try and stop the Pirates midfield from dictating terms.