African All Stars
Ghana unmoved on Fifa Ranking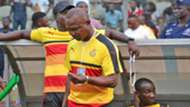 Ghana are unchanged in March edition of the Fifa World Ranking announced on Thursday.
The release sees the Black Stars still occupying 54th position from last month, although with a rise in total accumulated points from 596 to 602.
Placed 43rd in March last year, Ghana now find themselves between Panama (43) and Japan (45) on the ladder.
On continental level, the Black Stars still hold the eighth position in Africa, ahead of Burkina Faso (56) and Algeria (60).
Tunisia (23) still lead the pack in Africa, followed by Senegal (27), Congo DR (39), Morocco (42), Egypt (44), Cameroon (51) and Nigeria (52).
Back on the global stage, there was no new entry into the top 23.
Germany, Brazil, Portugal, Argentina, and Belgium, in that order, still hold their places as the top five.
Poland, having moved up by a spot, now occupy the sixth position, with Spain, Switzerland, France, and Chile, in that sequence, completing the top 10.
March's ranking is only slightly different from February's as just two 'A' internationals – all friendlies –impacted the table.
Ghana's highest ever performance since the ranking's introduction in August 1993 remains a 14th place in February 2008, while their worst placement was an 89th position in June 2004.
The Black Stars' last assignment was a 1-1 home draw with Egypt in the 2018 Fifa World Cup qualifying in November.
The ranking will be updated on April 12.