Ghana U20
Ghana U-20 coach reveals World Cup ambition after claiming Afcon ticket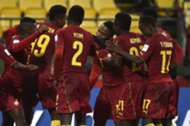 Ghana have set sights on securing a ticket for the 2019 Fifa Under-20 World Cup after booking qualification to the African Championship on Sunday. 
With a 4-2 aggregate win over Benin, the Black Satellites are set to return to the continental gathering after missing out on the last edition in Zambia last year. 
Niger 2019 will serve as qualifiers for the World Cup, with all four semi-finalists at the Afcon set to earn automatic qualification for Poland 2019.
"We are glad to qualify for the Africa Cup but the focus now turns to the World Cup in Poland," Cobblah said, as reported by Graphic.
"We have to work harder to achieve that [qualify for the World Cup] during our participation at the [African] tournament.
"The main objective is to get to the semi-finals of the tournament which ensures an automatic qualification.
"I believe I can build a team to achieve our target."
Ghana, winners of the U-20 World Cup in 2009, have not played at the competition since a second round appearance at New Zealand 2015.
The 2019 U-20 Afcon will run between February 2 to 17.