U17 World Cup
Ghana to prove a point at the U17 World Cup, says Fabin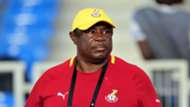 Ghana U17 coach Paa Kwesi believes his side will have a great tournament in the 2017 Fifa U17 World Cup holding in India.
The Black Starlets will open their campaign in Group A against Columbia at the Jawaharlal Nehru Stadium on Friday.
Ghana are making a return to the competition since 2007 in Peru. Despite the presence of hosts India and top favourites United States and Columbia in the group, Fabin insists they will prove a point.
"We are here to prove ourselves. It has been a long time getting to this stage but I believe every good thing takes time before yielding results. Now we are here and everybody will see the stuff we are made of," Fabin said at a pre-match conference.
"I was in Mumbai in July for the balloting, and from there we came to New Delhi. India is a beautiful country, a very vast country with a lot of people but beautiful people as well. So I think we're going to enjoy our stay here.
"We are getting used to the food and we hope to get used to it well before the end of the competition. It is our dream to start the competition on high note so we need to pick a win against Columbia," he added.
Ghana are two-time champions after lifting the trophy in 1991 and 1995 and will be counting on the likes of Eric Ayiah, Emmanuel Toku, Aminu Mohammed and goalkeeper Ibrahim Danlad to clinch a third title this time around.