Premier League
Ghana Premier League put on hold to clear outstanding games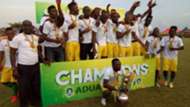 Ghana Premier League Board has postponed matchday 13 and 14 fixtures following a meeting this week, according to the body's vice chairman George Amoako.
Aduana's participation in the Caf Confederation Cup has made the league champions missing majority of their local games in the first round of the season, since they coincided with their continental duties.
"After our meeting this week, we think the league must be postponed to allow some of the outstanding games to be cleared," Amoako told Otec FM.
"If we continue to honour the rest of the games, it is possible that Aduana will have more than eight games pending which will affect the other matches and the log in general.
"If the remaining matches are suspended before the first round comes to an end, it will help everyone and promote fair play that's why we what to clear the games so that no club will have an advantage over the other to cause troubles," he added.
And according to the premier league board, Aduana's first of their six outstanding games will take place on Thursday before their game against Raja Casablanca on Sunday.
Revised fixtures:
Thursday, May 10: Outstanding:
Aduana Stars vs Liberty Professionals
Sunday, May 13: Outstanding:
Chelsea vs Elmina Sharks
Sunday, May 20: Outstanding:
Medeama vs Aduana Stars
Wed./Thurs, May 23/24: Week 13
Wed./Thurs, May 30/31: Week 14
Sat./Sun, June 2/3: Week 15
Wed, June 6: Outstanding, Ashanti Gold vs Aduana Stars
Wed, June 13: Outstanding, Aduana Stars vs Dwarfs
Sun, June 17: Outstanding, Wa All Stars vs Aduana Stars
Sun, June 24: Outstanding, Aduana Stars vs Hearts of Oak