Africa Women Cup of Nations
Ghana fall on Fifa Women's World Ranking after Awcon fiasco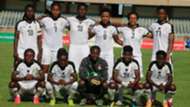 A disappointing performance at the 2018 Africa Women Cup of Nations has cost Ghana three places on the latest edition of the Fifa Women's Ranking.
Announced on Friday, the final publication of 2018 sees the Black Queens on the 50th position, three places down from their rank on the last release.
There was also a decrease in total accumulated points from 1503 to 1452.
On continental level, Bashir Hayford's outfit have also receded by two places, falling from the second to the fourth spot.
Nigeria, fresh from winning the Africa Women Cup of Nations, still lead the continental table, although they moved down by one place on the world order from 38 to 39.
Awcon bronze medalists Cameroon (46th in the world) are now second on the table in Africa, while silver medallists South Africa (48) hold the third spot.
Cote d'Ivoire (68), Equatorial Guinea (70), Morocco (79), Algeria (83), Mali (85) and Senegal (87) complete the top 10.
Ghana's slump is a result of their poor performance at the Awcon, where they exited after the group stage.
After a hard-fought 1-0 triumph over Algeria in their tournament opener, the Black Queens, hosts of the championship, suffered a 2-1 defeat to Mali before being held to a 1-1 draw by Cameroon.
The West Africans inability to go beyond the group stage also cost them a possible qualification for the 2019 Fifa Women's World Cup in France as the top three at the Awcon secured automatic tickets for the global gathering.
The USA, meanwhile, still lead the Fifa Women's Ranking, while Germany, France, England and Canada make up the top five in that order.
Released trimonthly, the next edition of the global order will be announced on March 29 next year.