Liverpool
Gerrard versus Rodgers: How a Liverpool love affair turned sour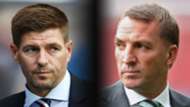 As it often could, Steven Gerrard's face said it all.
As the rest of his Liverpool team-mates buzzed around, preparing themselves for an evening in the spotlight, the captain's demeanour was an altogether different one.
"You could have cut the atmosphere with a knife," said one visitor to the team's hotel, a mile or so from the Santiago Bernabeu in the heart of Madrid.
It was matchday, a Champions League night, but Gerrard, for once, was in no mood for the big stage. He was, according to another observer, "raging, clearly".
In many ways, the exits of both Gerrard and Brendan Rodgers from Liverpool can be traced back to that night in the Spanish capital.
What had once looked like being a glorious union between skipper and gaffer would never be the same. Within a year, both would be gone, neither happy, neither having finished what they started. 
On Sunday, they come face-to-face for the first time – publicly, at least – since Gerrard's Anfield exit in 2015.
An Old Firm game is big enough at the best of times but, given the identity of the two managers, this weekend's Glasgow derby will have an extra spice to it, no question.
"I don't necessarily see it as a dugout battle," Celtic boss Rodgers said this week, though he knows, of course, that it will be painted as such. And that that night in the Bernabeu will feature heavily in pre-game narrative.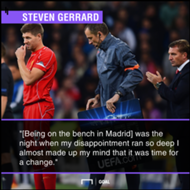 Rodgers, to recap, left Gerrard out of his starting XI against Real Madrid, making seven changes to his team as Liverpool limped to a narrow, but toothless, 1-0 defeat.
It was, in his captain's words, an act of surrender. Worse even, it was "the night when my disappointment ran so deep I almost made up my mind that it was time for a change."
Gerrard was 34 at the time. Six months prior to the Real game, he and Rodgers had been on the verge of ending Liverpool's long, painful wait for a league title. Gerrard's slip against Chelsea in the third-last game of the 2013-14 season proved pivotal, the moment the dream turned into a nightmare.
Manchester City pipped them, with Gerrard and Liverpool taunted about Demba Ba and near-misses ever since. 
That summer, following discussions with Rodgers about "managing his games" for Liverpool, he announced his retirement from international football. The aim, he said, was to prolong his club career by ending his England one. "I don't want my Liverpool games managed," Gerrard told him.
For a while, Rodgers listened – Gerrard started each of the Reds' first 13 matches of the 2014-15 campaign, though both his own form and that of the team's was patchy. The side that had thrilled in going so close the previous year had been ripped apart by Luis Suarez's departure and Daniel Sturridge's injury.
Gerrard, who had shone in a deep-lying role with those two to aim for, was not looking as effective feeding Mario Balotelli, Rickie Lambert or Fabio Borini. Funny that.
Meanwhile, he had entered the final year of his contract, though Rodgers had reassured him that an offer of an extension would be arriving. Gerrard, he said, was still a big part of his plans.
The Real game changed that, confirming to Gerrard that, in fact, his future may indeed lay elsewhere. "How could I go on playing for Liverpool another year if these were the kind of empty nights that awaited me?" he would say.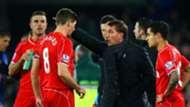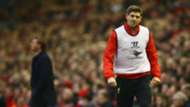 Liverpool's contract offer, a one-year deal featuring a 40 per cent pay decrease, came soon after, with Gerrard confused by the appearance-related bonuses. If he was not to be playing as many games, he reasoned, why accept a contract which required him to? Rodgers' reassurances did not tally with the club's actions.
Rodgers, in fairness, was busy trying to find a way to get his side back on track. The optimism of his second season on Merseyside had been replaced by doom and gloom. Liverpool struggled throughout the autumn and winter of 2014, eliminated for the Champions League and slipping down the Premier League table.
Gerrard, meanwhile, was left on the bench for home games with Stoke and Sunderland, despite starting – and scoring – against Leicester in between. On January 1, 2015, he announced he would be leaving Liverpool at the end of his contract to join MLS side Los Angeles Galaxy.
He would finish the season as the club's top scorer, but one more incident sticks in the mind, and spoke of the deterioration in his relationship with Rodgers. Gerrard was left on the bench for the visit of Manchester United in March 2015, despite having felt he had done enough off the bench in Liverpool's previous game, at Swansea, to earn a start.
In his autobiography, he recalled his disappointment, and suggested it was "a classic case of muscle-flexing" from Rodgers, who had told him in a face-to-face meeting that he would be missing out.
Gerrard said he went into the game like "a caged animal" and it showed; he was sent off for stamping on Ander Herrera just 38 seconds after being brought on as a half-time substitute. There were no winners in Red that day.
In fairness, Gerrard has also been generous in praising Rodgers. He certainly respected his coaching ability, describing his sessions as "enjoyable and imaginative".
"I wish I'd met him when I was 24," he said after announcing his Liverpool exit. "I think I'd be sitting here talking about a lot of titles that we'd won together."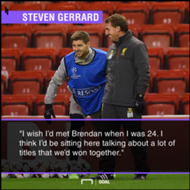 As it is, their working relationship can be split into two parts; the initial respect and the promise and thrills of a title challenge, followed by the comedown, the breakdown in communication and the sad, inevitable parting.
Both would, you suspect, have liked to have handled certain issues differently during that final campaign together. There remains a respect between the two, but also a distance. It could have been very different. Gerrard, at one point, even wondered if he would be invited onto Rodgers' coaching staff at Liverpool.
Now, the dynamic is even more fascinating. Rodgers has enjoyed total dominance since moving to Celtic in 2016, leading the Hoops to two successive domestic trebles, but has a troubled start to this season.
Gerrard, meanwhile, is unbeaten in a dozen games since accepting the challenge of his first senior managerial role. It's been a tough start, but he's making an impact at Ibrox. They head across town with belief, if nothing else.
He's already had one huge result this week, guiding the Gers into the Europa League group stage, and were he to get another on Sunday it would frighten the life out of his former boss. Rangers have not beaten Celtic in the league since 2012. Last season, they lost four out of five meetings, including 4-0 and 5-0 thrashings.
Reversing that trend is one of Gerrard's key targets. Obsessing over another club is rarely a good idea, but in Glasgow it is somewhat unavoidable. He and Rodgers will share a handshake and some pleasantries, pre-match, but after that it's down to business, serious business.
It promises to be a real Sunday. A proper Sunday. A Super Sunday.