Antoine Conte
France youngster Conte arrested for violent baseball bat assault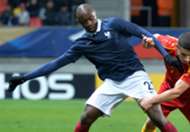 France youngster Antoine Conte has been arrested over allegations he violently assaulted a stranger with a baseball bat.
The 22-year-old, who plays for Reims and has featured for France at every youth level, was reportedly arguing with and physically abusive towards his partner in the street, prompting a passer-by to intervene.
Europe 1 claim Conte returned to his house to retrieve the bat before striking the 19-year-old stranger, leaving him in critical condition in hospital with a brain trauma and a cerebral haemorrhage.
"Stade de Reims are alarmed by the unspeakable acts of violence to which Antoine Conte is alleged to be involved," Reims said in a statement on Friday morning with Conte in custody.
"The club's thoughts are turned towards the player's partner and the young person who has been seriously wounded, condemns with extreme firmness these acts, which go deeply against its values.
"Without delay, in this grim matter the Stade de Reims demands that the player answers for his actions and reserves judgement on the nature of his sanctions, which will be swift if the facts are proven in the investigation carried out by police."
A club press conference is now scheduled for 2pm local time with Conte facing suspension or dismissal.