South Africa
Fran Hilton-Smith: Super Falcons have been Banyana Banyana's biggest threat at Awcon tournament
South Africa Chief Editor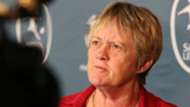 Goal: Hi Fran. Everyone is raving about how excellent Banyana have been in this year's tournament. What would you say they have been doing right this time around compared to the previous years?
Fran Hilton-Smith: Freedom of expression. Good preparation. Good motivation and self-belief. 
Goal: Banyana won the first two matches of the tournament, including that massive victory over Nigeria in the opening match. Would the draw against Zambia have any effect on the morale of the team going into the Mali game?
Fran Hilton-Smith: No, the game against Zambia has motivated the team to do better. They know they could have done better [against Zambia]. 
Goal: There have been quite a number of players who have impressed thus far with their displays, but has the availability of players playing abroad helped improved the team in anyway and should we be sending more players abroad?
Fran Hilton-Smith: Yes, overseas-based players have brought a lot of composure and experience. The more players going abroad the better, especially to competitive clubs. 
Goal: Given how dominant Banyana have been on the continent in recent times with back-to-back Cosafa Cup titles under their belts, can you say women's football in the country is heading in the right direction?
Fran Hilton-Smith: Yes, we are heading in the right direction and the national league next year will help more. The Sasol League has made a big difference as well.
Goal: What do you make of Desiree Ellis' contribution to the team's success thus far, and would you admit that as the association, you should have appointed her earlier?
Fran Hilton-Smith: Des has done well so far and has a winning mentality which the players have adopted.
Goal: Could you share with us Ellis' mandate for this tournament? Is it to qualify for the World Cup or to also bring the trophy home?
Fran Hilton-Smith: Qualify for the Fifa World Cup, but winning the Afcon is a priority. 
Goal: Back to the tournament, which team has been the biggest threat to Banyana so far?
Fran Hilton-Smith: Nigeria. 
Goal: What are some of the challenges the team has had to encounter since arriving in Ghana?
Fran Hilton-Smith: No challenges really. Just to keep winning! 
Goal: Many people are predicting a Banyana v Nigeria final. Would the team (Banyana) prefer a repeat of the first match? 
Fran Hilton-Smith: It's always hard to play Nigeria and they are now in their stride. It would be a tough final if SA meet Nigeria again. 
Goal: Thank you very much for your time Fran.
Fran Hilton-Smith: Thanks a lot. I appreciate the support. Now for Mali! I have waited for 25 years to qualify for senior World Cup!