Gor Mahia
Former Gor Mahia coach Dylan Kerr allegedly bathed in a swimming pool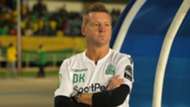 Gor Mahia's Organizing Secretary Judith Nyangi shocked many football fans in Kenya with her post on social media, revealing the sad state in which the club subjected coach Dylan Kerr.
Nyangi alleged that Kerr was forced to take a shower in a swimming pool due to a lack of running water in his house. 

"Kerr is the only coach who could have persevered at Gor Mahia. Imagine a coach staying in a house without electricity and water and having to shower in a swimming pool because of rent arrears. Fans must protect this brand at all means," the social media post read.
When contacted by Goal over this allegation by the official, the English coach, who resigned from his position on Thursday stated the following.
"I lived within the means the club could afford. They asked me to move apartments for financial reasons, so I did that to help the club," Kerr told Goal.
"I didn't complain. Maybe I should have been upset like previous coaches, but I understood the club's predicament. I just got on with it. It wasn't about me. It was about my players."
Kerr is doubtful whether the club will settle these problems soon.